Dorothy Chansky
"Angela's Mixtape"

Reviewed by Dorothy Chansky
Produced by New Georges at the Ohio Theatre
66 Wooster Street (between Spring and Broome)
April 6 – May 2, 2009, Mondays – Saturdays @ 8:00 p.m.
Tickets: $20 (includes students and seniors); special premium tickets $35
Box office: (212) 868-4444 or www.smarttix.com

If only there had been an "Angela's Mixtape" when I was in high school I might not have thought of history and politics as dry lists of dates and laws. This passionate and poignant coming of age story deals in history and politics that are all about women, civil rights, dance, popularity, race, music, competition, sex, and Angela Davis.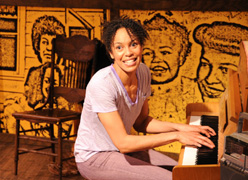 Eisa Davis in "Angela's Mixtape" directed by Liesl Tommy . Photo by Jim Baldassare.
Eisa Davis's hip-hop treasure is a performance collage dedicated to her aunt, professor and activist Angela. It is also an autobiography that speaks to anyone who lived through the eras of student uprisings, identity politics, and yuppie privilege (either as a have or a have not).
Eisa (just to keep the two Davis's differentiated) is a dynamo at the center of a five-woman ensemble who use song, dance, solo piano, rap, and dialogue to convey the vicissitudes of life in the liberation lane. Director Leisl Tommy creates staging to match the morphing rhythms embedded in the writing.
For Eisa the child, every waking moment was about social justice, as her vegetarian lawyer mother took her to protests and Communist party meetings, where the little girl recited monologues from her aunt's book. Mom's idea of heaven was Grenada, where she announced during a visit, "This country is perfect. Black and socialist." No matter that there was not enough food to go around and only one television station. Aunt Angela, meanwhile, was mostly someone who braided Eisa's hair, gave her a puppy, and didn't push politics the way mom did.
Eisa Davis and Linda Powell in "Angela's Mixtape" directed by Liesl Tommy . Photo by Jim Baldassare.
The talented Eisa excels in a program for musically gifted children, negotiates the social divide between Oakland (white kids with a few Aisans) in grade school and Berkeley (black kids with a few Asians) in middle school, and is accepted to Harvard. Only then does she read her aunt's book in full and only then does she begin to come to terms with the mother who may have made poverty fun, but who never brooked any opinions but her own. Kim Brockington's performance as "Mommy" is radiant and ultimately heart-rending, as she finally tells her daughter about the father Eisa never knew and the police brutality Eisa never imagined.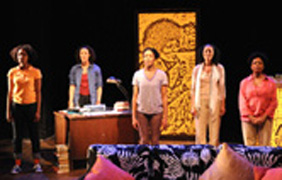 Ayesha Ngaujah, Linda Powell, Eisa Davis, Kim Brockington, and Denise Burse in "Angela's Mixtape" directed by Liesl Tommy . Photo by Jim Baldassare.
Even if one knew nothing about Angela Davis, it would be impossible to resist the ethnographic x-ray of an era delivered by the effusive, chameleonic cast. Denise Burse and Ayesha Nganjah are versatility personified in their various roles as relatives, schoolmates, dance instructors, and ticket agents. Linda Powell is an understated, centered Angela. Real life connections only deepen the immediacy conjured by the production. Angela Davis's mother attended Alma and Colin Powell's wedding; Linda Powell is the latters' daughter.
The audience realizes long before Angela slyly mentions it, that this mixtape is not really for her. It is Eisa's venture into being worthy of her family. "Autobiography doesn't define you," says the famous aunt to her adoring niece. "How you see the world does." Seeing the world through Eisa Davis's eyes is a privilege and a lot of theatrical fun.