And Then There Was Light
"She Turned On The Light"
La MaMa E.T.C
74A East 4th Street NY, NY
November 13 - 22, 2009
Fri and Sat 10pm, Sunday 5.30pm
Tickets $15/ $10. More: www.sheturnedonthelight.com
By Georgia Clark
" As soon as a moment passes it is a memory, a time and place I cannot return to except through fantasy or projection." – Marina Libel in "She Turned On The Light" by Wendy Woodson. Photo by Eric Poggenpohl.
Wendy Woodson wears many hats: choreographer, director, writer and video artist. An award-winning and creative tour de force in the contemporary dance world, her work explores the between word and gesture, what is said, what is unspoken, body and voice. Her new work, "She Turned On The Light," explores a favorite them of the artists: the intersection of fantasy, reality and memory, as experienced by two women separate by age and history. Past and present will merge and separate, possibility will reveal itself.
Q. Why does the intersection of fantasy, reality and memory appeal to you?
A. I have always had a hard time distinguishing between reality, fantasy, and memory. My day-to-day reality is infused with memories of former days and dreams of future ones. I have tremendous nostalgia. The idea of travel across different times and places is important to me as a way to navigate through life...or 'reality.' I have never felt entirely 'settled' in any one place or dimension so the place where fantasy, reality and memory intersect is the place I call home.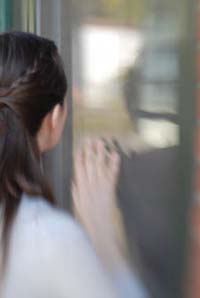 " As soon as a moment passes it is a memory, a time and place I cannot return to except through fantasy or projection." –from "She Turned On The Light" by Wendy Woodson.
Q. Tell me about your time in Australia as a Fulbright senior scholar.
A. Australia was and is a place of real wonder for me... a place of new weather, new light, new languages and vistas, powerful primordial landscapes and intersections of very different cultures. To not know a place is a wonderful relief. You can see things that you would never be able to see in places that are familiar. The tensions between belonging and not belonging make the moments that you are in all the more potent....everything is heightened, vivid, and for me, exciting. "She Turned on the Light" is a composite of different stories I imagined in transit in Australia.
Q. Your production company Present Company is renowned for bringing together high-quality artists from different calibers (ie. film-makers, composers etc). What do you learn from such experiences?
A. I learned early on that my work is never 'my own.' I would dream things up in my room alone and as soon as I got in the room with others whatever I dreamed of solo was never the same. This surprise quickly became addictive....I want and need to work with others so that I cannot predict what will happen. Sometimes I feel quite ambivalent about this need – it makes me dependent, vulnerable, out of control. I am truly grateful for these collaborations- they take me to places I cannot imagine alone and sometimes they take me in spite of myself. I like this edge, this interaction.
Q. How do you expect audiences to react to this piece?
A. To be absolutely truthful I don't know. When we performed it in a workshop production in Amherst responses were very positive – people related to the overall story and found themselves in it and also appreciated its mystery. This is what I hope for and I also hope to be surprised. I never know the full extent of a work until an audience reflects it back to me. Most of us have experiences in our lives or in those of our families that relate to displacement – to stories of times and people lost and found across generations.
Q. What do you attribute your tireless creativity to?
A. Am I truly tireless? Do I want to be 'without tireless'? I have defined myself to such a large extent on my ability or energy to make things as a way to be connected in the world; the fear of not having this connection pushes me. I like a few weeks or days without any kind of agenda – when I don't have to make something, to notice everything as possible 'material.' But after a while I get uncomfortable with the threat of becoming inert, immobile, disinterested. This is the threat that motivates me, or at least has motivated me up to now. My relationship to all this however is in the process of changing but I think that I'll always want to devote myself to something that lives at the intersection between reality, fantasy and memory.