Georgia Clark
Electric Pear, Chinese Whispers
Electric Pear Productions presents "Synesthesia 2010," eleven different artistic responses that bounced, in sequence, off a fortune cookie… Intrigued?
"Synesthesia 2010"
The Wild Project
269 East 3rd Street.
April 21st – May 1st 2010
Tickets: $20.00. Info and schedule: www.electricpear.org/ 212/352-3101
I have an idea. I show you this idea. That gives you an idea. You show someone your idea, they show someone, they show someone, and so on. Thus forms the basis of Electric Pear Productions unique new show, "Synesthesia 2010." In October 2009, a composer/lyricist team was asked to select a fortune cookie. They created a musical theatre piece based on the fortune. Two weeks later, they presented their work to another artist. This artist then had two weeks to create a piece based on the work shown to him (never having seen the fortune), and then presented his art to the next artist in the series. She then created a piece…and then another artist, and then another artist… eventually, eleven in all. We spoke to a handful of the multi-disciplinary artists involved in this year's production.
Q. Describe your group or artistic practice.
Jon Morris' The Windmill Factory (Interactive performance installation): The goal of my work is to spark a sublime moment for the viewer/listener/consumer. Perhaps this inspiration comes from Don Quixote's quest for sublime adventure, a desire for danger driven goose bumps, a love of slapstick, or a battle with the inexplicable.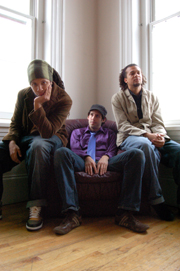 The Mayhem Poets join the game of interpreting, and being interpretated.
Photo by Carolyn Dentz of Dentz Design.
Mayhem Poets: We write and perform our own original poetry for audiences of all ages; think half hip-hop, half stand-up comedy.
Tarik Cherkaoui: I'm an independent animator who works with traditional media such as paint on glass to create artistic short films.
Thomas Doyle: I create miniature diorama-like sculptures, which are typically displayed under glass domes.
Brent Arnold: I'm a cellist, composer, and singer. My music incorporates rock, classical, folk, with an experimental bent.
Meghan Frederick (choreographer): Elisa and I have been making this dance in my living room for the last several months, on and off. I pay her in food. We generally have a good time

Q. How was responding to another artists work different from your usual process?
Meghan Frederick: Having a completed piece to work from was new, but I love limits, so it actually fit in really well.
Thomas Doyle: My work is typically very psychological as well as personal. Though my work often processes the different stimuli I encounter in my day-to-day life, I am rarely faced with something I am 'required' to react to in my artist practice.
Jon Morris: Different in that it was an interpretation of an interpretation of an interpretation… I usually create from history, a social issue, a natural environment, or by redefining a space.
Mayhem Poets: We're used to writing different ways depending on what arena a particular poem is meant for. Sometimes we start writing and the piece kinda shapes itself and becomes clearer as we go along. With this piece, we started out with an idea of what we wanted to get at based on what we got from the previous artist, so we were a bit more active in shaping the piece ourselves.
Brent Arnold: I often collaborate with different artists, especially filmmakers and other musicians. But in those cases we're usually working together on one piece. This process is different and interesting in that each "response" is really its own artwork-- I'm not creating a mere soundtrack for something, but a piece that needs to stand on its own, and be just as substantial. I suppose it's less like rowing a boat together, and more like a relay race... but in this race we don't just run in circles.
Q. What was more challenging about working this way?
Brian J. Bustos: There wasn't anyone for me to bounce ideas off of. It was all about my individual process, which never happens for me.
Mayhem Poets: The thought of getting it wrong; being that kid in the telephone line that fumbles it all up, then when everyone convenes afterwards and says, "Well, I heard this... well, I heard that," then everyone looks at you like, "How did you get THAT from THAT!?!" Yeah, I know that's not the 'artisty' way of thinking, but I gotta be honest; no one wants to be that kid.
Thomas Doyle: Because my artwork takes many hours to create, I was only able to provide sketches of my proposed work to the next artist. In my normal process, I often make small alterations as I execute a work. In this case, I needed to stay close to the original concept in order to maintain the "pure" idea that was communicated forward in the sketches.
Tarik Cherkaoui: The challenge was definitely being part of a chain and having to fit the slow and laborious process of animation into the comparative light speed of other art media.
Brent Arnold: To create a freestanding work based on another, from another discipline, presents a challenge. I needed to take inspiration but not be afraid to introduce my own elements, and create my own world. Copying or imitating or being too tied to the source material is a recipe for failure.
Q. And what was better, easier or more fun?
Brian J. Bustos: It was very different. The sky was the limit and I didn't have to worry so much about many other factors. I really enjoyed creating a color palette that didn't have to relate to other costumes or a set or lights. I was able to completely concentrate on one costume and one painting.
Jon Morris: Defining an interpretation of an idea is a great responsibility, a responsibility I welcome.
Tarik Cherkaoui: My favorite part was looking in the eyes of the next artist as they watched my storyboard and to see sparks of his own inspiration.
Q. There's so many different forms being brought together in this event. How do you think such an unusual structure and varying tones/ approaches might affect an audience?
Brian J. Bustos: The social-psychological aspect of "telephone" allows us all to understand our world of communication and how we perceive it. In out techno driven age of communication it is so easy for us to 'interpret' conversation. This shows that you have to take into account that there are other individuals that have different vocabularies we communicate with.
Meghan Frederick: It will give the audience so much food for thought. Not only can they consider a specific artistic piece and what that piece says or does to them, they can also follow the mysterious ways in which those pieces interacted to create more art.
Jon Morris: Like an exotic salad delightfully assaulting your taste buds till the last tasty bite.