Two views on "The Motherf**ker with the Hat"
By Glenda Frank
By Lucy Komisar

---
"The MotherF**ker with the Hat" by Stephen Adly Guirgis

"The MotherF**ker with the Hat" by Stephen Adly Guirgis.
Directed by Anna D. Shapiro at the Gerald Schoenfeld Theatre, 236 W. 45 St., NYC.
April 11, 2011. Open run. Jan. 25 - Feb. 30, 2011. Tues. 7 PM, Wed-Sat. 8 PM. Sat. and Wed. 2 PM, Sun. 3 PM. $66.50 - $131.50. $26.50 Student Rush Tickets at 212-239-6200, 800-432-7250, http://www.themfwiththehat.com.
Reviewed by Glenda Frank.
Life is difficult. Love is harder. First he finds the hat. Then he finds the wrong motherf**er with the hat -- and shoots up his apt. By the time he finds the right motherf**er, it's too late for love -- and he's headed back to jail. Guergis's foul mouthed, brilliant, and funny funny 4G comedy is changing our definition of Broadway drama, bringing in new audiences -- some of them to see Chris Rock in his Broadway debut -- and proving that the best playwriting can be about anything.
This is real adult stuff that anyone who has ever been betrayed and forgiven will understand on a gut level. Guirgis has a knack for putting us in the middle of the scene emotionally. We're shocked and not so shocked. We're rooting for the guy we know is going to lose and the sexy women who are fighting to keep their lives it together. In the end, although we've laughed our way all the way through, it's a tragedy. It grips the heart and won't let go -- not even days later. It's a real experience -- from figuring out how to say the title in public to the aftertaste.
"The Motherf**ker with the Hat" tells Jackie's story. Just released from jail, off the juice, gone back Veronica, his high school love, and now with a good-paying job, Jackie is on top of the f**king world, as he would say. But he loses it all in a flash. Veronica (Elizabeth Rodriguez), cloud-high and talking as fast as an Acela Express, and he rejoice until he notices the brown fedora lying on a chair. He knows. She lies, she counter-attacks, she blows him off, then tries to calm him down. It's loud and physical with some of the finest acting I've seen in a long time. Then he's back on the bottle and determined to hurt the guy with the hat.
Jackie is driven by love but he can't control his passions or impulses. He's bewildered and shocked when he finds the man who left the hat, someone he never suspected. On the journey with him we meet Ralph D. (Chris Rock), the smooth-talking AA sponsor who thinks he has a right to take anything he wants as long as he return it, and his put-upon wife (Annabella Sciorra), another ex-addict who fell for his line but can't leave him, and who tries to take something for herself. We also meet Cousin Julio (Yul Vázquez), a bisexual health nut, who has lots of love, hurt feelings, and a cool Van Damme move. Jackie lives in a real network. In the end he gains what Aristotle called recognition, but unlike tragic heroes, his defeat may be temporary. His girl is moving away and won't give him her address, he's going back to jail but you can feel him getting ready to fight again for happiness.
Guirgis' earlier plays include "Jesus Hopped the 'A' Train," ""Our Lady of 121st Street," and "The Last Days of Judas Iscariot," all produced by LAByrinth Theatre and directed by Philip Seymour Hoffman. He grew up on the Upper West Side before urban renewal. He was a white kid in an all-boys school in Harlem, who sometimes got tossed in a garbage can. His characters are not just some writer's idea of street people. He has always kept the stage lively, but with "The Mother F**ker" he has proven to be a major talent, a craftsman who know how to construct a plot and create living characters who go through believable changes.
The script is matched by beautifully paced and modulated direction by Anna Shapiro, a Steppenwolf alum who won a 2008 Tony for directing "August: Osage Country." Bobby Cannavale gives a mesmerizing, award-worthy performance, that swept me into Jackie's drama. Elizabeth Rodriguez as the girlfriend who loves him and cheats just because is a ball of raw energy and charm. Annabella Sciorra, in her Broadway debut, Chris Rock, and Yul Vázquez, a co-artistic director of LAByrinth Theatre Company, hold their own. This production is a must-see for anyone who loves a good evening of theatre and American drama.


---

Lucy Komisar
"The Motherf**ker with the Hat" is a classy, funny, grungy tale of underclass betrayal

"The Motherf**ker with the Hat."
Written by Stephen Adly Guirgis; directed by Anna D. Shapiro.
Lyrics by Anna D. Shapiro, Music by Terence Blanchard.
Schoenfeld Theatre, 36 West 45th Street, New York, NY
212-239-6200; http://www.themfwiththehat.com/
Opened April 11, 2011; closes July 17, 2011.
Reviewed by Lucy Komisar April 13, 2011.

Stephen Adly Guirgis' play is a very funny, ironic, grungy and cautionary tale where four-letter words, sex and betrayal are mixed in equal parts in the down and dirty milieu of New York City drug addicts and their relatives and friends.
Bobby Cannavale as Jackie, Elizabeth Rodriguez as Veronica. Photo by Joan Marcus.
It starts at a residential hotel in Times Square. Jackie (Bobby Cannavale), just out of jail and on parole, is ready to take up again with his sweetheart Veronica (Elizabeth Rodriguez), but then he notices a man's hat on a bedroom table.
He accuses her. And the language she ripostes with is the rich idiom of the play: "You have got this wrong, Jackie. You're so far out of line you're like in Zimbabwe or some shit…. I'm willing to put the ghetto on hold and eat some fuckin' pie with you, if you're willing to entertain the notion that you're a fuckin' retard ex-con who almost blew it cuz you got an imagination like — I dunno — Dr. fuckin' Seuss an shit. Okay?

Pause. He searches her eyes. Jackie: "But you're lying."
Bobby Cannavale as Jackie, Chris Rock as Ralph, photo Joan Marcus.
From there, with fast-paced direction by Anna D. Shapiro, Jackie proceeds on his own picaresque itinerary. It is a wild ride.

The first stop is his parole sponsor Ralph (Chris Rock), who runs a health food business out of an apartment in Hell's Kitchen. Ralph is full of good advice, what any middle-class self-improvement guru might give (he is learning French and showed up for jury duty), but he has his own difficulties with Victoria (Annabella Sciorra), the cursing, recovering addict he lives with. And he is not quite without blame.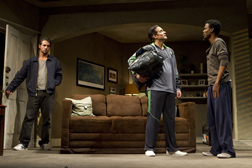 Bobby Cannavale as Jackie, Yul Vázquez as Julio, Chris Rock as Ralph, photo Joan Marcus.
Then on to Jackie's cousin Julio (Yul Vázquez) in Washington Heights. Julio offers him empañadas, remarks that he was in a sex addiction fellowship, and agrees to hide the gun Jackie has obtained for revenge against the man with the hat.

The story is both real and surreal, connecting to experiences we know, but rooting them in the underclass. Ralph and Julio exchange cards about nutritional beverages and massage (Rolfing is Julio's specialty). Various members of the couples denounce their partners and also cheat on them with their supposed friends.

The play gets a lot of its spice from Guirgis's peppering the dialogue with obscenities. And from the in-your-face acting by Cannavale as the hoarse-voiced, dysfunctional Jackie. Cannavale is backed up with class (if that is the right word) by the rest of the ensemble. It's a play and production one won't soon forget.