Henry Baumgartner
Joseph Mills and MADCO at New York Live Arts
MADCO Performs Mills/Works
Modern American Dance Company
Choreography by Joseph Mills
New York Live Arts
July 11–13, 2013 (Reviewed 7/11)
Local audiences may recall Joseph Mills from his days dancing with Momix and Erick Hawkins, twenty-odd years ago. But he has also worked with the St. Louis–based Modern American Dance Company, who recently visited New York to show us a program of Mills's original choreographic work. Three pieces were presented by the company, ranging from a premiere to a piece from 2001, and we also saw Mills himself perform solo in an old Momix standby, "Circle Walker."
First on the bill was the premiere, "Selkie's Song," a depiction of legendary Celtic seal-human sea sprites. We see a dozen dancers lying on the floor, looking indeed a bit like a colony of seals. To rather lush cello music by Barry Phillips, they stir as if agitated by passing waves; with their flowing blue and green robes (costumes by Tim Kent), these selkies could be taken for animated seaweed. As the piece progresses, the movement becomes more vivid. Often the entire body of dancers will sort of drift from one side of the stage to the other, then back again, but there are also lively passages where the dancers engage with each other to good effect. About halfway through, the music changes; it's credited to Flook, and it's peppier--almost Momix-like, in fact. And the dance mostly held my attention till the end.
"Getting Lucky: Secret Moments in the Natural World"
"Getting Lucky: Secret Moments in the Natural World," from 2012, was a jocular takeoff on the sexual lives of bugs, birds, and beasts, as explicated by a pompous academic voice (British-accented, no less), whose owner remains unseen. The humor is a bit on the ponderous side--we hear, for example, about the love lives of the Bee Hinds--but the perverse antics of the critters are often fun.
"Circle Walker"
Mills's solo, "Circle Walker," involves a large, round metal framework, perhaps ten feet high; this was constructed by Alan Boeding, who also choreographed the piece and used to perform it frequently. Mills turns the object, crawls under it, then rides it as it rotates. It's not a bad trick, but the piece might be more at home in a circus or nouveau cirque setting.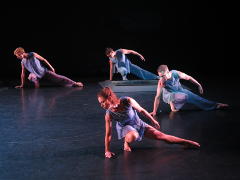 "Reflections in the Well of Solace"
The program took a more serious turn with the last item, "Reflections in the Well of Solace," choreographed in 2001 in the wake of the 9/11 attacks. The soulful, plangent score is by Michael Hunt, and Mills's scenic design includes two square pools of water, eerily anticipating the design of the memorial in lower Manhattan. There are images of grief, and dancers carrying one another. Later the focus changes to embracing and even romping as the performers overcome their sorrow, but a note of grief and agitation returns at the end.
Photos by William Gutierrez and Jingxi Zhang.