Henry Baumgartner
"Charlotte's Song" at Theater for the New City
"Charlotte's Song"
Conceived and written by Nancy Ferragallo
Directed by Andreas Robertz and Mario Golden
Choreography by Nancy Ferragallo and Celeste Hastings
Theater for the New City, 155 First Avenue
www.theaterforthenewcity.net
April 24 to May 11, 2014 (reviewed 4/26)
Thursdays–Saturdays at 8 pm, Sundays at 3 pm

Celeste Hastings and Yvette Quintero. Photo by Jonathan Slaff.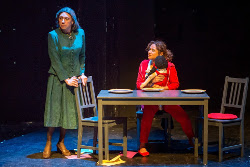 Mario Golden and Yvette Quintero. Photo by Darial Sneed.
"Charlotte's Song" at Theater for the New City is a strange sort of hybrid show, containing both dance and theater, but not at all resembling what is usually called dance theater. It's more like a play and a dance performance taking place in the same theater simultaneously. Yet both components are substantial and serious efforts, and if I responded more strongly to the dance component, this may just reflect where my interests lie.
The piece was conceived and written by Nancy Ferragallo, a dancer, choreographer, conceptual artist, and writer who has been active in California and Europe. It is strongly autobiographical, presenting a character attempting with considerable difficulty to deal with a mother given to psychotic episodes--a predicament the author herself has had to deal with in her own life. If this makes you think that seeing this show might resemble sitting in on someone's therapy sessions, well, yes, you'd be right. And given such material, the evening could hardly help being fairly heavy going.
The main presence here is the troubled mother, trooping through a series of no doubt seedy California hotels, sending off an endless stream of letters, hectoring but unanswered, to her absent daughter. She is played by a man, Mario Golden, who brings an intense presence to the role, and whose underlying masculinity gives the character a hard edge that admirably suggests the otherness of the mentally ill. The daughter, played by Yvette Quintero, carries around a doll, which is sometimes just a doll, rescued from one of her mother's inexplicable destructive fits, and sometimes a person--herself, or her own daughter. While our sympathies are clearly with the daughter, we are made to appreciate the pathos of the mother's situation, very much so. But we never really penetrate into her interior world.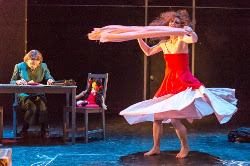 Mario Golden (seated) and Celeste Hastings (dancing). Photo by Darial Sneed.
This brings me to the dance component of the piece. This is supposed to represent the mother's inner life, but it never quite makes it clear exactly what's going on inside her mind. Yet the dance, performed by Celeste Hastings, is wonderful, and it vividly depicts the most horrible mental agonies. The choreography is credited jointly to Ferragallo and Hastings, but the most extensive solo, danced by Hastings in a flaming red dress to Luciano Berio's "Sequenza 111 per voce solo," was choreographed by Hastings. This piece is a wildly jagged, expressionistic howl, almost like some Mary Wigman witch dance from 1920's Germany, but completely Hastings's own. Nothing, though, could be farther from the inwardness of Hastings's usual Butoh-inflected style. I have been a fan of Hastings's dancing for many years, but I've never seen anything quite like this from her. And at least for me, Hastings's dance by itself made the show something that needed to be seen.
Celeste Hastings. Photo by Darial Sneed.