Jack Anderson
Sarasota Ballet's Ashton Festival
Sarasota Ballet
Frederick Ashton Festival
Sarasota Opera House, Sarasota, Florida
April 30-May 3, 2014

America may now have an important new dance center: Sarasota, Florida, home of the Sarasota Ballet, which Iain Webb has directed since 2007, transforming what was apparently a local group that had its ups and downs into one of increasing national distinction. And now the company has done something extraordinary: it has produced its Sir Frederick Ashton Festival, four nights of works by one of the twentieth century's greatest choreographers, supported by talks and films in the afternoons. .
Ashton (1904-1988) was British and has been called the architect of modern British ballet style. Webb is also British, and he and Margaret Barbieri, his South African-born wife and Sarasota's assistant director, are former principal dancers of the Royal Ballet, Ashton's company. But no one should think that they are holding a perpetual British balletic tea party in Sarasota: the 110 productions Webb has offered during his directorial tenure include works by George Balanchine, Agnes de Mille, Paul Taylor, and Twyla Tharp. Nevertheless, he and Barbieri love Ashton, have danced his ballets in Britain, and hope to share their love of them with audiences in America, where many of those ballets are still little known. The result was a festival of eight ballets and a suite of divertissements (a scheduled ninth ballet, "Symphonic Variations," was canceled because of a dancer's injury). The ballets were demanding in many ways: stylistically and dramatically, as well as technically. Yet the company of 50 dancers coped with their challenges amazingly well, and several productions were revelations for me.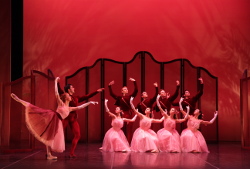 Danielle Brown, Ricardo Graziano and Company in Frederick Ashton's Valses nobles et sentimentales. Photo by Frank Atura.
There were two performances of "Façade," a comic ballet of 1931 to a score by William Walton. That title struck me as appropriate for Sarasota, a city with some striking architectural façades: neo-Spanish, neo-Venetian, Art Déco, and thoroughly miscellaneous. It's possible to wonder what lies behind some of those façades. One palatial Venetian structure houses the John and Mabel Ringling Museum of Art, a fine collection with strong holdings in Renaissance and Baroque art. The Sarasota Opera House, where performances took place, is an attractive former vaudeville theater in the Italian style, which seats slightly more than 1100. Sarasota can also boast of an opera company, a symphony orchestra (which accompanied two festival performances, with Ormsby Wilkins of American Ballet Theatre as guest conductor), and several theater groups. And during the ballet festival a poetry festival was happening at another theater. Yet if some civic façades are signs of "The Glory and Magnanimity of Princes," to quote the title of a Tiepolo painting in the Ringling Museum (and John Ringling was a financier and circus impresario, as well as a collector), one can also fear that grand façades may mask pretentiousness, arrogance, and wealthy ignorance.
Kate Honea, Juan Gil, Nicolo Centocchi & Alvaro Madrigal in Frederick Ashton's Facade. Photo by Frank Atura.
All this may seem unnecessarily fancy verbiage for Ashton's "Façade," a modestly scaled witty suite spoofing social dances and music-hall acts of the 1920's and '30's. It was danced twice with largely different casts and performed with appropriately deadpan humor both times, leaving everyone happy. Yet some of the ballet's numbers could set you thinking, if you let them. There's a Valse for four nicely-dressed damsels. Although they're pretty, they also look insipid. A Foxtrot makes two couples seem well-to-do young things from the smart set; it's easy to imagine the men referring to acquaintances as "old chap" or "old bean." But, as they dance, these fashionable young people seem increasingly shallow, snobbish, and even a bit repulsive.
The ballet's most famous number is a Tango for a bird-brained debutante and her older and manipulative partner. Danielle Brown looked slightly too knowing at the first performance, whereas Kate Honea was more suitably gaga at the second. Neither David Tlaiye nor Juan Gil was conniving enough as the male dancer, a role often performed by Ashton himself, who affected several different makeups over the years. A film clip from the 1930's, viewed during the afternoon film programs and panel discussions, showed Ashton in makeup that made him resemble Hitler, as if to imply that both tango dancers and tyrants can lead innocents astray.
Although many Ashton ballets are plotless, they usually have emotional and dramatic implications, which may be one reason why Ashton placed them in specific kinds of settings. An obvious setting for a ballet is a ballroom, and the festival offered two ballroom ballets, each quite different. "Birthday Offering" (1956), to Glazounov, paid tribute to the 25th anniversary of Ashton's company now known as the Royal Ballet. André Levasseur's designs suggest a grand ballroom in which couples waltz and seven women dance solos akin to the sharply etched fairy variations in "The Sleeping Beauty." Everything is very elegant. But, in my past experience seeing this ballet, l have always found it slightly dull. Ashton created each of the seven solos to suit the talents of the Royal Ballet's seven leading women at that time; indeed, the solos are now named after those ballerinas. But I have never seen a cast that radiated the magic those ballerinas must have possessed. The Sarasota dancers moved with admirable skill, and Victoria Hulland brought amplitude to the solo originally performed by Margot Fonteyn. But "Birthday Offering" never became fully alive.
The other ballroom ballet was very different: "Valses Nobles et Sentimentales" (1947), a work to Ravel that, until Sarasota revived it, has seldom been danced in recent years and which, for me, was one of the festival's revelations. The setting is certainly a ballroom, but a much more intimate and dimly lit one than the glittering ballroom of "Birthday Offering." Sophie Fedorovich's designs emphasize pinks and maroons and make the space look luscious as ten dancers come and go before and behind translucent screens. Whereas the choreographic shapes in "Birthday Offering" appear to harden like crystals, those in "Valses" keep melting away like clouds. When dancers in front of the screens gaze at the dim images of dancers behind those screens, they could be longing either for a lost love or a new love not yet found. And when Ricardo Graziano lifts Daniele Brown low off the ground and moves across the stage holding her, she could be walking on air. Everything is fragile and fleeting in "Valses."
"Sinfonietta" with Alex Harrison and Ricardo Rhodes supporting Kate Honea. Photo by Frank Atura.
Everything is compulsively busy in the first and last movements of the ballet Ashton created to, and titled after, Malcolm Williamson's three-movement "Sinfonietta" (1967), another rarely danced work that Sarasota rescued from near-oblivion. The opening and closing sections are all agog with kicking feet and thrusting arms. In contrast to this flutter, the second movement shows a woman surrounded by men who keep trying to prevent her from touching the ground; even when she suddenly plummets earthward, there are men to catch her, and when she walks, she does so on the backs of men crouched as if they were stepping stones. Much of that second movement of "Sinfonietta" is so unlike the hurly-burly that surrounds it that it could be happening in outer space.
Eternity might well be the setting for "Monotones I & II" (1965 and 1966), two brief and complementary works to Satie usually performed together. "Monotones I," for two women and a man, proceeds by little starts and stops, yet the pauses are brief and the action always resumes smoothly. There are particularly striking moments when, while moving forward or backward, each of the three dancers does so at a slightly different tempo, creating the illusion of shapes going temporarily in and out of focus. In "Monotones II," two men twist and turn a motionless woman. But when she comes to life, she dances beside them, their equal. The Satie pieces are short, but "Monotones," imperturbably serene, seems ready to go on forever.
"Les Patineurs" (1937), Ashton's ice-skating ballet to Meyerbeer, is one of his most enduringly and deservedly popular creations. What a joy it is. And how ingeniously Ashton has designed steps that make dancers look like skaters, not only doing tricks on ice but also, since these skaters are friends in a park, not Olympic athletes, accidentally stumbling and tumbling. "Patineurs" appears to be a well-loved part of the Sarasota repertory, and local fans greeted its dancers with rustles of appreciation as they entered. Especially hearty applause went to Logan Learned who, in the virtuoso role of the Blue Boy, a jolly showoff, leaped and whirled with remarkable nimbleness and considerable charm. Indeed, all the dancers were charming. But they should be careful not to overplay that charm. Instead, they should let the steps carry them effortlessly along.
"Les Rendezvous" with Kate Honea and Ricardo Rhodes as the Principal Couple. Photo by Frank Atura.
During afternoon discussions, panelists spoke of how Ashton cautioned dancers never to exaggerate and how he was always conscious of the size of the spaces, large and small, for which he choreographed. Ballets for small spaces may not necessarily look good transported to big ones. Take "Les Rendezvous" (1933): the only other time I saw it was in a large theater, and I felt that the cast exaggerated the choreographic effects, making this frolic to Auber about lovers' meetings annoyingly mannered. In the more intimate Sarasota Opera House, no one exaggerated and the ballet was airy. The choreographic impulses always seemed upward, and Ricardo Rhodes proved an especially agile jumper in his pas de deux with Honea. "Les Rendezvous" was like a spring breeze.
"Illuminations" with Richard Graziano as The Poet and Ellen Overstreet as Profane Love. Photo by Frank Atura.
A special revelation for me was "Illuminations" (1950), one of two works Ashton choreographed for the New York City Ballet (the other, "Picnic at Tintagel," may be unrevivable) when that company's home was the City Center, where I never saw it. It remained in the repertory at the newly opened New York State Theater in Lincoln Center, where I saw it several times. It always looked bland there although, given its subject matter, it should have quite an impact, for Ashton choreographed "Illuminations" to Benjamin Britten's song cycle based on feverish prose-poems by Arthur Rimbaud, the bad boy of 19th-century French poetry. They were well sung in Sarasota by the tenor Matt Morgan, but you don't have to know much about French poetry to follow Ashton's ballet especially since, unlike the pallid New York performances I'd witnessed, everything at the Sarasota Opera House was vivid.
Cecil Beaton designed the ballet so that most of the characters resemble clowns or personages from a commedia dell'arte show. But corruption lies behind their often pretty façades. The central figure is a rebellious Poet who sees and attacks the hypocrisy beneath everyone's surf ace. Graziano, in this role, made no secret of his loathing of pomp and frippery. Ashton's choreography requires the Poet to spit in contempt at dancers representing dandyism, royalty, and organized religion. Graziano did so forcefully.
The Poet encounters women representing Sacred and Profane Love. Amy Wood was serenely Sacred, but one can wonder just how innocent this character is. At one moment, she is lifted by four male attendants, all handsome and bare-chested except for ruffs around their necks: this little ensemble brings a hint of decadence to sacredness. Ellen Overstreet was a passionate Profane Love. One of the oddities of her role is the fact that the character moves with one foot bare and a toe shoe on the other. Still more curious choreographic events occur when the Poet takes a piece of cloth from Profane Love's costume and seems to ejaculate on it, although in a non-literalistic fashion recalling the Faune in Nijinsky's "L'Après-midi d'un faune." Then the Poet withdraws into a pissoir. At the ballet's conclusion, other characters turn into a hostile mob and pursue him until two soldiers shoot him. This is strong stuff, and it was strongly danced.
The Sarasota Ballet also offered a suite of divertissements, most of them little party pieces Ashton devised for special occasions. These miniatures afforded proof that Ashton could devise tasty choreographic tidbits.
The performances left audiences eager for more. All during the festival, dancegoers familiar with Ashton's output could be heard suggesting additions to Sarasota's Ashton repertory. My own suggestions? "Enigma Variations" and "A Wedding Bouquet."
The Ashton Festival drew international visitors to Sarasota, and the resultant stir was excitingly newsworthy. But perhaps even more important in the long run is the way Iain Webb and Margaret Barbieri have made Sarasota excited about ballet itself. They are charming and intelligent people who have assembled an able staff and have made themselves parts of their community. Behind the façades of Sarasota Ballet are keen minds and warm hearts.