Lucy Komisar
"The Road to Mecca" explores women's self-fulfillment in conservative culture
"The Road to Mecca."
Written by Athol Fugard; directed by Gordon Edelstein.
Roundabout Theatre Company at American Airlines Theatre, 227 West 42nd St., New York City.
212-719-1300; https://www.roundabouttheatre.org/Shows-Events/Road-to-Mecca.aspx
Opened Jan 17, 2012, closes March 4, 2012.
Reviewed by Lucy Komisar Jan 20, 2012.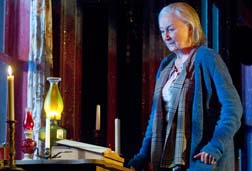 Rosemary Harris as Miss Helen. Photo Joan Marcus.
It is 1974, and Miss Helen (Rosemary Harris), 69 and a widow for 15 years, lives in a rural Afrikaner town in the Karoo, a semi-desert agricultural region of South Africa. There's a rose glow inside her house, partly from the candles and gas lamps that that refract off the pinkish walls, perhaps also a reflection of the mosaic glass-covered sculptures she has created and placed outside.
The quiet of her solitary existence is interrupted by the arrival of Elsa Barlow (Carla Gugino), a 31-year-old teacher, from Cape Town, 800 miles away. Elsa is of English stock, traditionally more liberal than the Afrikaners. She had motored passed Helen's house five years earlier and, attracted by the art, walked in the door, becoming the older woman's fast friend. She has driven ten hours because of a disturbing letter Helen sent.
Harris is a transcendent, complex Helen, subtly displaying her strengths, weaknesses and insecurities. Gugino is an excellent Elsa, portraying the conflicts that beset the independent woman. In fact, intertwining freedom and fulfillment with independence make this a feminist play.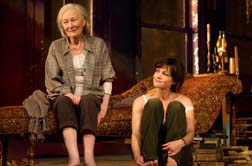 Rosemary Harris as Miss Helen, Carla Gugino as Elsa Barlow. Photo Joan Marcus.
In an unusual sisterhood, in which they sometimes seem more like mother and daughter, Elsa appears the intense one and Helen is calm, yet those surface characteristics cover up Elsa's fortitude and Helen's distress. You get the feeling that Helen has lost the strength to control her own destiny. Director Gordon Edelstein manages to make these two very unlikely friends appear as curious but natural allies. The culture of their country weighs on both.
Playwright Athol Fugard is most known for distilling into intimate personal stories the physical and spiritual struggles against apartheid in South Africa. In this engrossing multi-level play, he plies the same theme, but this time it's not as much about blacks and coloreds, as about women and non-conformists. A society that keeps the former in thrall will without too much difficulty stomp on the latter. And Fugard asserts that they have to fight back as much as the racial victims.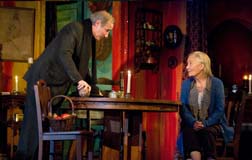 Jim Dale as Marius Byleveld, Rosemary Harris as Miss Helen. Photo Joan Marcus.
The local pastor, Marius Byleveld (the very good Jim Dale), has been pressing Helen, who we learn later had an accident with a candle, to move to the local old age home.
He is full of ideas of how to help people. For example, Helen recalls that after someone applied to open a bottle store, he gave a sermon "all about the evils of alcohol and how it's ruining the health and lives of our colored folk." Elsa inquires, "Has anybody bothered to ask the colored people what they think about it all?"
What would Afrikaners do about a real scourge for coloreds. Young Katrina, a colored woman who helps Helen, is being threatened by her drunken husband. "Why doesn't she leave him?" Elsa says. "She can't do that," says Helen. "They're married." The young woman replies, "There's the Afrikaner in you speaking. There is nothing sacred about a marriage that abuses the woman!"
Fugard enjoys his own amusing reference to modernity in conflict with the past, having Elsa remark, "Honestly, coming here is like stepping into the middle of a Chekhov play. While the rest of the world is hoping the bomb won't drop tomorrow, you people are arguing about who owns the cherry orchard." She advises Helen that her little world can't remain in the 19th century and that change "will start with your colored folk. They're not fools. They also read newspapers, you know."
Elsa is in trouble herself because she asked her colored students to write a letter to the president on racial equality. Helen advises, "Say you're sorry and that you won't do it again."
But Fugard makes clear that playing that game won't work. The tight little Afrikaner society fights even small challenges. The locals don't like Helen's statues –one is a mosque made of beer bottles — and kids have thrown stones.
Her art and her struggle to make it is a metaphor for women's struggle for self-expression and self-fulfillment in a society that sanctions conformity as well as control by the powerful of the powerless.
There are particular women's issues. Elsa has man trouble, an affliction for even the strongest women psychologically dependant on men. Helen admits she didn't love her husband. She recalled "the darkness that nearly smothered" her life, the emptiness till after his funeral. But then – unexplainably — she didn't resign herself to being a meek church-going widow. In fact, she stopped going. She became an artist. And she was called mad. We see a struggle for Miss Helen's soul waged between Elsa and Marius, each claiming to be her defender.
Jim Dale as Marius Byleveld, Carla Gugino as Elsa Barlow, Rosemary Harris as Miss Helen, photo Joan Marcus.
The minister calls making art her "hobby," but then admits that he thinks of the sculptures as idolatry. Elsa challenges Helen, "You haven't got enough faith in your life and your work to defend them against him." She says that the townspeople are jealous of Helen's "beautiful light-filled glittering life."
The spiritual rival here is not another religion, it is freedom, the free spirit. As if to challenge the force of Christianity, the name of the redemptive place Helen seeks is Mecca, but her journey there will be through art.