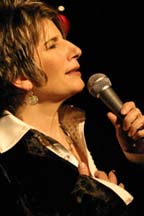 Marieann Maringolo. Photo by Alina Wilczynski.
Marieann Meringolo's rich mellow slightly jazzy alto presents Michel Legrand's romantically charged music with almost theatrical intensity. Legrand, famous for music for such films as "The Umbrellas of Cherbourg", ""The Thomas Crown Affair," and "Yentl," needs someone like Meringolo to provide the dramatic interpretation of his muse.

Her "After The Rain" – "I love the quiet after the rain with you" – creates a picture that is almost cinematic, with sound that seems stereophonic. Her "How do you keep the music playing" and "I will wait for you" are romantic stuff. It's all romance, hope — you can visualize the films. (The latter the iconic "The Umbrellas of Cherbourg.")
Every song has drama. And to make it work Meringolo holds the longest notes you can hear in cabaret. Her technique is clearly apparent in "The Windmills of Your Mind," dealing with an erotically charged game of chess in The Thomas Crown Affair, about an elegant bank thief and the woman who investigates him. I got the sense of being in an echo chamber she controlled.

I was fascinated when she told of how influenced she was by Barbra Streisand. You can see that line in the the slow moody melodic sounds, the sophisticated poetry, the rich long notes. She is working in a fine tradition.
This production features Doyle Newmyer, piano and arranger, Boots Maleson on bass, and Brian Woodruff on drums. Eric Michael Gillett directed.