Paulanne Simmons
It's a Grimy Business
"Burleigh Grime$"
Directed by David Warren
New World Stages
340 West 50th St. (between 8th & 9th avenues.)
Opened June 13, 2006
Tues.- Fri. 8 p.m., Sat. 2, 8 p.m. Sun. 3, 7 p.m.
$70 (212) 239-6200
Reviewed by Paulanne Simmons July 1, 2006
If writing good and somewhat clever lines were all it took to create a biting and entertaining satire, Roger Kirby's "Burleigh Grime$" would be right up there. Kirby takes aim with equal enthusiasm at the left and right, rich and poor, winners and losers.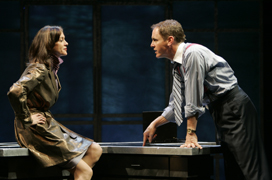 Wendy Malick and Mark Moses in "Burleigh Grime$." Photo by Carol Rosegg.
The President is quoted as saying about Darwinism, "I am living proof that we have not evolved." Michael Moore is reported as at work on a new film about global warming: "Hot Air and Me."
But good satires also require intelligent thinking, a plot that makes some sense and characters who elicit at least a modicum of interest. "Burleigh Grime$," unfortunately, is lacking in these essentials. It often seems more like a high school revue than an off-Broadway show.
Burleigh Grime$ is a latter-day "How to Succeed in Business Without Really Trying." But while the 1961 hit, featuring music and lyrics by Frank Loesser and a book by Abe Burrows, was about a real business and real people. "Burleigh Grime$" is about phantom deals and cardboard people, all of whom are despicable in their own way. And the music, by David Yazbek, never rises above its rhythm section. Perhaps this is a sign of the times. But at $70 a throw, audiences have a right to demand more.
The show has a star-studded cast familiar to most T.V. watchers. Mark Moses, who is Burleigh Grimes, the ruthless Wall Street tycoon, can be seen currently as Paul Young on ABC's "Desperate Housewives." Wendie Malick who plays his nemesis, news reporter Elizabeth Bigley, has television credits that include "Just Shoot Me," "Dream On" and "Frazier." Ashley Williams, who plays her assistant, Grace Redding, has appeared in "American Dreams," "Good Morning Miami" and "Huff." Perhaps that's why, under David Warren's direction, much of "Burleigh Grime$" seems like an over-produced sit-com.
The thin but cumbersome plot supporting the cursing, dancing and carrying on that is most of this so-called satire tells how Grimes goes about destroying his new employee George Radbourn (James Badge Dale), a rich kid from old money, whose father at one time, tried to destroy Grimes. He does this with the willing help of Elizabeth, the unwitting help of Grace, who, it turns out was once romantically attached to George, and the dutiful help of his lackeys, Buck (John Lavelle), who went to school with George, and Hap (Jason Antoon).
The best that can be said about "Burleigh Grime$" is that it moves quickly, has a few funny moments and, despite the foul language, never becomes too offensive.
The original Burleigh Grimes was a famous spitballer who was one of seventeen pitchers exempted form the 1920 ban on the moistened ball. The reference to success at illegal activities is evident to many baseball fans, but lost on most of us. The same fate may await this show.