Paulanne Simmons
Norway Meets New York

"deathvariations"
Directed by Sarah Cameron Sunde
"Rosmersholm"
Directed by Timothy Douglas
59E59 Theaters
59 East 59th St.
Opened Aug. 4, 2006
Check Schedule
$20 single tickets, $30 both shows
Closes Sept. 9, 2006
Reviewed by Paulanne Simmons Aug. 8, 2006
deathvariations
"deathvariatons" and "Rosmersholm," the two plays that comprise the "Norway Meets New York" double bill now at 59E59 Theaters, have several things in common. They are both translations of work written by Norwegian playwrights (Henrik Ibsen, who is considered Norway's greatest playwright and the father of modern drama, wrote "Rosmersholm," and Jon Fosse, Norway's pre-eminent contemporary playwright, wrote "deathvariations"). They are both presented by Oslo Elsewhere in new translations ("deathvariations" is translated by Sarah Cameron Sunde and "Rosmersholm" is translated by Anna Guttormsgaard). They both ask the question, is fate inescapable, or do we create our own? But the similarity ends here.
"deathvariations" is a riveting drama tracing the events leading to the suicide of a young girl (Natalia Payne). The present and the past mingle freely as the girl's parents (Diane Ciesla and Dick Hughes) look back at their younger selves (Deborah Knox and David L. Townsend) in an attempt to come to terms with the death of their daughter.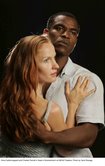 Rosmersholm
Fosse's brilliant, ritualistic language uses obsessive repetition to make the girl's fate seem inevitable. At the same time, in a very existential way, it shows the impossibility of effective communication between people, even those who are very close.
Sunde's direction strengthens Fosse's concepts with blocking that boarders on choreography. And the actors have an uncanny ability to distance their words from their characters and at the same time inhabit their roles.
"deathvariations" moves forward to its staggering end persistently and relentlessly. Txhe play is neither a second too long nor too short. It is like a quick, sharp and very effective punch.
"Rosmersholm," like much of Ibsen's work, is about people struggling against social mores and with each other. John Rosner (Charles Parnell) is a minister who has lost his faith in everything but the value of freeing himself from conventional norms. He has been a widower since his somewhat deranged and barren wife threw herself over a bridge. But his grief has been assuaged by a new friend, the free-thinker Rebecca West (Guttormsgaard), who came to his home, the Rosmersholm of the title, and has remained after the death of his wife.
Together Rosner and West battle the reactionary forces of their town, until Rosner discovers something about West that makes him change his mind about the purity of her purpose. Then everything goes downhill.
As if "Rosmersholm" were not sufficiently overblown, overly intricate and over-the-hill, Douglas has burdened it with some incomprehensible choices in her direction.
First of all, he chose the translator to play West. Guttormsgaard may have exceptional linguistic abilities, but she does not seem to understand the sexual energy that fuels the play and drives her to her own distruction.
Secondly, his blocking is clunky and often leaves the actors facing each other with nothing to do but flail their arms.
Finally, Douglas has used a multi-ethnic cast in a period piece by a writer whose work is very time and site specific. Ibsen is no Shakespeare, and his plays do not and should not be asked to transcend their settings.
Even so, Mike Hodge, who plays Rosner's former teacher, Brendel, and Lizan Mitchell, who is the maid, Mrs. H, manage through the sheer force of their acting to rise above the fact that they are black people playing Norwegians in the mid-nineteenth century. But Parnell, a black man playing the scion of an old Norwegian family, is hopelessly stiff and out-of-place. It's almost as if he wandered into the play by mistake and is trying to make the best of it until he gets off.
Unlike the ending of "deathvariations," the conclusion of "Rosmersholm" does not seem inevitable and tragic; it is a welcome release from the tedium of watching cardboard characters reciting lines only a little better than high school students in their first production.
Anyone interested in finding out what's being produced in that country famous for its long winters should definitely see "deathvariations" and leave "Rosmersholm" out in the cold.