Paulanne Simmons
"Barbara's Blue Kitchen" Is Bitter-Sweet and Delicious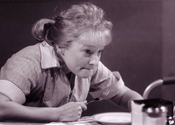 Lori Fischer. Photo by Sandy Underwood
"Barbara's Blue Kitchen"
Directed by Martha Banta
The Lamb's Theatre
130 West 44th St. between Broadway and 6th Ave.
Opened Aug. 3, 2006
July 31 to Sept. 2 Mon. thru Sat. 8 p.m., matinees Wed. 3 p.m.
Sept. 4 to 30 Mon. & Wed. thru Sat. 8 p.m., matinees Sat. & Sun. 3 p.m.
$30-$40 (212) 239-6200 or telecharge.com
Closes Sept. 30, 2006
Reviewed by Paulanne Simmons Aug. 18, 2006
Ever wonder what's behind those long-suffering lyrics in country songs? The answer to that question and much more is revealed in Lori Fischer's "Barbara's Blue Kitchen," at the Lamb's until Sept. 30.
"Barbara's Blue Kitchen" is a one-woman show staring Fischer as Barbara Jean, who runs the local diner in Watertown, Tennessee. Fischer also plays all of the six other well-defined characters.
"Barbara's Blue Kitchen" is ably directed by Martha Banta and features musical accompaniment by Kurt Zischke, who, as the voice of the local radio station, plays the guitar and sings songs like "I Want My Kidney Back."
Barbara Jean is a warm-hearted woman who has learned that tenderness can lead to pain. She serves up coffee and meatloaf, along with lots of love and horse sense. She's adores a philandering, guitar-strumming hairdresser named Lombardo, who has given her a "promise ring," and sings, "Will I be the one who dyes your hair for the rest of your life?"
Barbara Jean's sister, Melissa, is an embittered, abandoned wife, who seems to care more about her vicious dog, "Killer,' than for her own three children; when Killer gets taken away after biting her son, Tommy Lee, she is furious with her sister for not helping her hide the dog.
Jeanette, the new waitress who replaced Melissa after she was fired, is timid and not too good at carrying plates, but she also sells Tupperware, prompting the lament, "Why can't life be like Tupperware, unbreakable and neat?"
Barbara Jean's customers include a soft-hearted nurse, Miss Morris; and an old woman, Miss Tessie, whose husband died of botulism at the Happiness Home.
"Barbara's Blue Kitchen" is filled with wonderful wisdom. Barbara Jean asks "Do you ever feel that after talking to your family you get a little uglier?" She observes that "I get so glad someone likes me I forget to think about whether I like them back."
The songs have the colorful lyrics that talk about "a voice like a highway pulling me back" and maintain that "God loves U-turns on the highway of life." But Fischer's songs are not all fun and parody. Tommy Lee's lyrical lament about how he carries a picture of his AWOL father in his shoe can tear anyone's heart out. Most important, the songs and the dialogue are extremely well integrated, making this "comedy with music" more like a musical than many musicals.
"Barbara's Blue Kitchen" is the final show to play at the Lamb's Theatre before it is torn down to be replaced by a hotel. Built in 1904 by the famed architect Stanford White, The Lamb's is the oldest theatrical club in America. Samuel Clemens, better known as Mark Twain, wrote his first play here. Richard Rodgers worked on a new musical, first called "Away We Go!" and later changed to "Oklahoma!" at the Lamb's. It is said that composer Frederick Loewe and lyricist Alan Jay Lerner met in Lamb's downstairs tavern. More recently the likes of Marian Seldes, June Havoc and Jean Stapleton have performed at The Lamb's.
It is unlikely that the site will ever again stand witness to the warmth, timeliness, insight and down-to-earth humanity Ms. Fischer brings to it until Sept. 30.