Paulanne Simmons
Mrs. Gold's Daughter Tells All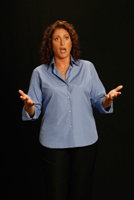 Judy Gold. Photo by Carol Rosegg
"25 Questions for a Jewish Mother"
Directed by Karen Kohlhaas
St. Luke's Theatre
308 West 46th St.between 8th and 9th avenues
Opened Oct. 12, 2006
Tues. thru Sat. 8 p.m., matinees Wed., Sat. & Sun. 3 p.m.
$65 (212) 239-6200 or www.telecharge.com
Open-ended run
Reviewed by Paulanne Simmons Oct. 19, 2006
If the hapless Alexander Portnoy were a lesbian mother who does standup comedy, he might look a lot like Judy Gold. Her solo show, "25 Questions for a Jewish Mother," has moved to St. Luke's Theater after a sold-out run at Ars Nova Theater last spring, and it's none the worse for the schlep.
Although the script was written by Kate Moira Ryan (with Gold) and is based on interviews with over fifty Jewish women of different ages, religious affiliations and occupations, the show seems mostly autobiographical. Gold begins like any other standup comic but soon takes the audience on a journey of self-discovery that has as many ups and downs as a rollercoaster.
Gold complains about her overbearing and overprotective mother who made her wear an egg timer when she was a little girl, so she would know when it was time to go home. She remembers her first book: a pop-up version of "The Diary of Anne Frank." She replays a few of her mother's hysterical phone messages.
But under the capable guidance of director Karen Kohlhaas, Gold moves seamlessly from kvetching about her mother to becoming her mother kvetching about Gold. In a beautifully transcendent moment she actually plays her mother as the standup comedienne she might have been (she says) if she hadn't had children.
Gold talks about her partner, Wendy, and the two children they parent. She reproduces the telephone conversation she had with the girl at the sperm bank when she was choosing the donor, and the conversation she had with her mother when she was explaining how she was going to become a grandmother.
When Gold isn't talking about herself, she transforms into a number of the women interviewed. Whether she's an orthodox woman explaining how she gets someone to press the correct button in the elevator on the Sabbath ("I wonder what floor I live on") or a Chinese convert, she treats all the women with equal tenderness and respect.
One of the pleasures in watching Gold is seeing the way she produces stereotypes and destroys them with the same breath. Along with the laughter, there is pain and confusion. One scene, involving a woman who lost her son, is heartrending in its dignified sorrow.
Another pleasure is witnessing how Gold introduces politics in a way that's meaningful and funny. It's hard to imagine how she could become a threat to homeland security, but not so hard imagining her mother's reaction!
Underneath "25 Questions for a Jewish Mother" is a reality that sits like the elephant in the room. Unless love mixed with worry and topped with a touch of gilt is something uniquely Jewish, mothers are mothers no matter what their race, religion or nationality.