Paulanne Simmons
Recapturing the Past in a Family Portrait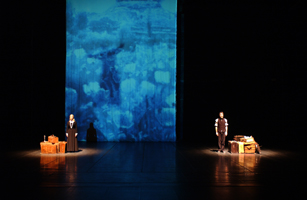 Photo by Luc Monsaert
"Portrait of a Stolen Spring"
Conceived by David Verbeeck
The Abrams Arts Center
466 Grand St. at Pitt St.
Oct. 27 thru Oct. 29, 2006
Reviewed by Paulanne Simmons Oct. 27 2006
Between 1905 and 1924, over seventy thousand emigrants passed through the port of Antwerp, Belgium. In 1906 alone, two Red Star Line ships left Antwerp for the United States on a weekly basis. Most of those onboard were Eastern Europeans, Russian and Austro-Hungarian Jews fleeing poverty and pogroms. Two people who never managed to board a Red Star Line ship were Chaja Zimmerman and Moses Kalter. Their story is told in David Verbeeck's two-person musical, "Portrait of a Stolen Spring."
The beginnings of the play go all the way back to 2003 when Verbeeck, an actor and singer with The Royal Ballet of Flanders, received from his father a Jewish registry with family names from the Holocaust. On the registry were twenty or so relatives who had been deported to Auschwitz, but Verbeeck became particularly obsessed with his great-great-grandparents, Chaja and Moses.
Armed with only the dates of Chaja's birth and death, Verbeeck spent a year and a half doing the research that allowed him to reconstruct his great-great-grandparents' lives. The result is a work that defies all labels. With a libretto by Griet De Wolf and music by Wim Verhoeven, it is one part documentary and two parts poetry.
"Portrait of a Stolen Spring" unfolds as a play-within-a-play. It begins with Verbeeck reading excerpts from a love letter Verbeeck imagines his great-great-grandfather might have written to Chaja. The scene then shifts back to the marriage of Chaja (Ann De Winne) and Moses (Verbeeck), a poor but optimistic painter.
As time goes by, Moses tries to ignore occasional beatings and the theft of his property, but Chaja becomes increasingly distressed at the anti-Semitism in the couple's Ukrainian town. Soon she convinces Moses to load up a horse-drawn cart with their two daughters and all their belongings, and head for Antwerp. Cheated out of their money by a swindler who sells Moses counterfeit tickets, Chaja and Moses must remain in Antwerp, where Moses tries to eke out a living as a peddler.
The play features actual images of Chaja and Moses, as well as archive documents, which Harry De Neve has incorporated into digital scenography. With a minimal set and props (a table, chairs, suitcase, religious objects), and De Winne and Verbeeck's powerful performances, "Portrait of a Stolen Spring" follows the couple's lifetime journey, a journey filled with disappointment, tragedy, faith and love.
"Portrait of a Stolen Spring" is certainly not a typical musical. Its songs have the lyric quality of poetry set to music. People will not leave the theater humming them, but neither will they soon forget their emotional intensity.
Despite its tragic ending and somber theme, "Portrait of a Stolen Spring" is filled with humor and warmth. Verbeeck's portrayal of his great-great-grandparents makes them seem very human and at the same time very much part of the larger landscape of humanity.
"Portrait of a Stolen Spring," which premiered in Belgium in 2003 (in Flemish), is part of a larger project that includes "America and Antwerp on the Red Star Line," a presentation that can be seen at the entrance hall of the Ellis Island Immigration Museum until January 15, 2007, and the South Street Seaport Museum's "Antwerp=America, Eugene Van Meghan and the emigrants of the Red Star," which closed Oct. 29. It is hoped that these exhibits will attract donors who will help the city of Antwerp turn the old Red Star warehouses into a museum.