Paulanne Simmons
Five Playwrights Take on a Famous Poem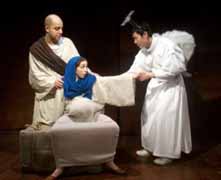 Robert Rosenblatt's "Away in the Manger"
"'Twas the Night Before…"
Various Directors
The Flea Theater
41 White St. between Broadway and Church St.
Opened Dec. 13, 2006
Wed. thru Sat. 8 & 10 p.m.
$20 (212) 352-3101 or www.theatermania.com
Closes Dec. 30, 2006
Reviewed by Paulanne Simmons Dec. 22, 2006
In celebration of the Christmas season, The Flea Theater commissioned five playwrights, Christopher Durang, Roger Rosenblatt, Mac Wellman, Len Jenkin and Elizabeth Swados to create short works based on Clement Clark Moore's famous poem "'Twas the Night Before Christmas."
The resulting five ten-minute plays in The Flea's "'Twas the Night Before…" run the gamut from the irreverent to the absurd, and the mystical to what can only be described as pure mayhem. They represent the playwright's take on politics, philosophy, the arts and old fashioned, malicious fun.
Durang kicks off the evening with "Not a Creature Was Stirring." This sadistic take on the sweet poem, has a family oppressed by a demonic father (who insists on reading the poem despite its disastrous consequences) and attacked by enraged bats.
Roger Rosenblatt's "Away on the Manger," a modern and hilarious take on the nativity, features Joseph, Mary, a Chinese angel. Tiny Tim, a Roman soldier and the overly solicitous owner of a Marriot Hotel (a vaguely Middle Eastern type), who keeps trying to cheer everyone up with various Christmas paraphernalia: a Christmas tree, an Advent calendar, etc.
Mac Wellman's "Before the Before and Before That" made about as much sense as the title. There was a woman in a window, a narrator, a couple and a chorus. And anyone trying to figure out what it was about may be still at work when next Christmas comes around.
"Christmas Song," by Len Jenkin had a gritty, Twilight Zone kind of feel. It takes place in a house where a woman knits a sweater for a dead man, and a live man awaiting death prepares Christmas dinner for himself until he is visited by a local prostitute.
Finally, "Holiday Movies" by Elizabeth Swados takes a well-aimed and very funny shot at some of the ridiculous offerings Hollywood releases every Christmas season, accompanied by the kind of advertising that pays for them.
The five plays are performed by a new company of Bats, the resident company of emerging artists at The Flea. These young actors have admirable energy and enthusiasm, and are certainly notable for their fine esprit de corps.
Not surprisingly, not all the plays will be equally appealing to everyone. Wellman is clearly in the wrong place at the wrong time. And Durang's contribution seems more like a high school skit gone haywire than the work of a mature writer.
Nevertheless, The Flea had a great idea. And for the most part, the writers came through with funny, thoughtful and innovative work that make one rethink Christmas as more than a feel-good time of gift-giving and gathering around the Christmas tree.