Paulanne Simmons
Puppets with a Purpose
The Rapture Project. Photo by Orlando Marra
"The Rapture Project"
Created by Great Small Works
Here Art Center
145 6th Ave. between Spring and Broome streets
Opened Jan 4, 2007
Thurs. & Fri. 7 p.m., Sat. 7 & 10:30 p.m. Sun. 2 p.m.
$20 (212) 352-3101
Closes Jan. 21, 2007
Reviewed by Paulanne Simmons Jan 6, 2007
Until recently, puppetry in the United States was regarded as a form of entertainment suitable only for very young children. This is regrettable, as puppetry has been put to use by institutions no less noteworthy than the Catholic Church (which used puppets to spread church doctrine), and, in the seventeenth century, traveling puppet theaters that performed shows centering on local politics.
It is in these venerable traditions that Great Small Works is reviving in "The Rapture Project," at Here Arts Center through Jan. 21.
"The Rapture Project" is an ironic look at fundamentalism as it is practiced by Muslims, Christians and Jews in the United States today. The show takes audiences from a Creationist tour of the Grand Canyon to the Hassidim in Brooklyn, and from Muslim squatter punks in Buffalo to an oil rig in Houston.
During this journey we are introduced to Bernard Bernard, the unscrupulous head of Point Blank Body Armor and his assistant, Wanda Gonzales. Wanda must decide whether she has the courage to expose the company's shady practices, which have resulted in the deaths of American soldiers in Iraq. We also meet Rick and Carey, two enthusiastic young fundamentalists who go to Iraq to spread the Good News. Intermittently, the spirit of Susan Sontag debates the Devil over the future of the world.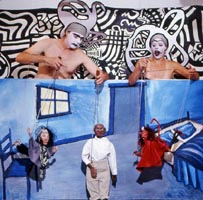 The Rapture Project. Photo by Orlando Marra
"The Rapture Project" is performed by a cast of marionette puppets, and live musicians and actors. The characters and chorus in "The Rapture Project" are accompanied by original music composed and performed by saxophonist Jessica Lurie. Her mixture of klezmer, gypsy and a vaguely Middle Eastern sound is a highlight of the show. But it can't make up for what is missing in this play: a writer and a director.
Like a headless horse, "The Rapture Project" jumps from scene to scene, from character to character and from plot line to plot line. At some point it seems they will all meet in Iraq, and some do. But the result is a puppet massacre that may be the Rapture but seems more like cartoon characters having it out. It's sort of funny, but it leaves you scratching your head.
"The Rapture Project" is clearly just that…a project. It has the look and feel of a collaboration guided more by consensus than critical thought. The result is the kind of mayhem that is delightful in some parts and merely confusing in others.
Undoubtedly, a certain amount of frenetic energy is inherent in puppetry, from Punch and Judy to the Muppets. But if puppeteers want to be taken seriously, there must be method to their madness. With a little more method and a little less madness, "The Rapture Project" might have done a better job making its point.