Paulanne Simmons
Seeing Film Noir in a Different Light

Directed by Sheryl Kaller
Primary Stages
59E59 Theaters
59 E 59th St. between Park and Madison avenues
Opened Feb. 13, 2007
Tues. 7 p.m., Wed. thru Sat. 8 p.m., matinees Wed. & Sat 2 p.m., Sun. 3 p.m.
Feb. 28 matinee replaced by 1 p.m. show to student groups, no charge
$70 (212) 279-4200 or www.ticketcentral.com
Closes March 4, 2007
Reviewed by Paulanne Simmons Feb. 10, 2007
Theatergoers used to Christopher Durang's dark comedies will see another side of the playwright in his new venture, a collaboration with composer Peter Melnick in a highly enjoyable parody of film noir, ''Adrift in Macao.''
The collaboration began when Melnick contacted Durang about a trio of short musicals he was writing. Durang told Melnick that he liked the old-fashioned musicals created by Kern, Rodgers and Hart, and Rodgers and Hammerstein. Melnick told Durang that Richard Rodgers was his grandfather. And, as the saying goes, the rest is history.
And a very fortunate history at that. ''Lost in Macao,'' under director Sheryl Kaller's guiding hand, is a rambunctious, tongue-in-cheek frolic that blissfully combines all the conventions Warner Brothers and Alfred Hitchcock worked so hard to create.
The play is set in set in Macao, China at the beginning of the Eisenhower Administration. Most of the scenes take place in Rick Shaw's Surf 'n' Turf Nightclub and Gambling Casino where Mitch (Alan Campbell), named for touch-guy Robert Mitchum, is looking for a mysterious man named McGuffin, Alfred Hitchcock's nickname for the suspense factor in his films. He needs to find McGuffin so he can clear himself of a crime he didn't commit and go back to America.
At the Surf 'n' Turf he meets not one but two rival nightclub singers, the opium addicted Corinna (Michelle Ragusa) and the footloose Lureeena (Rachel de Benedet); the ''inscrutable'' Tempura (Orville Mendoza), a Chinese version of Peter Lorre; and Rick Shaw (Will Swenson) a hard-boiled hero with a soft heart.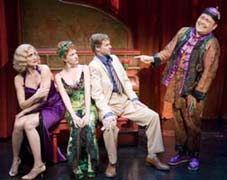 Rachel de Benedet, Michele Ragusa, Alan Campb""ell, Orville Mendoza. Photo by James Leynse.
Unlike true film noir, it's obvious from the very beginning of ''Adrift in Macao,'' that no one is going to get hurt in this film, unless you count the time Lureena gets socked in the eye by Corinna. Durang and Melnick are much more interested in parodying the romance and atmospheric tics of films like ''The Big Sleep'' and ''Laura.'' And of course, ''Casablanca'' illuminates the show with its dark shadow.
Melnick says that the music he created for ''Adrift in Macao'' ''hearkens back to the '40s and '50s.'' This is definitely true, but his score is much more the influenced by Broadway of those decades than films. Here is music with melody and rhythm, accompanied by Durang's clever rhymes. Wonder of wonders, even tone-deaf members of the audience may be able to hum one or two of the tunes after leaving the theater!
The night this reviewer was at Primary Stages, de Benedet was suffering from a bad cold and could not sing her big number, ''So Long.'' She did a great Marlene Dietrich imitation, in a husky speaking voice, but it was a stopgap measure at best.
Fortunately the madcap Mendoza and the naughty Ragusa were in fine form. Mendoza's final number, ''Revelation'' is a tour de force with a delicious surprise. And Ragusa bumps and grinds her way through ''Mambo Malaysian'' with great panache.
Other high points in the show are the song Rick claims to have hired someone to write for him because the show's creative team didn't think he was good enough to have a solo and a few entirely gratuitous but hilarious shots at ''The Wizard of Oz.''
''Adrift in Macao'' is too derivative to ever become a classic, but it has the exuberance and entertainment value that unfortunately have become scarce in modern musicals. Drift on over.