Paulanne Simmons
Weak Tea, Not Too Much Sympathy
''Tea and Sympathy''
Presented by Keen Company
Directed by Jonathan Silverstein
Clurman Theater
410 West 42nd St. between 9th and 10th avenues
Opened March 16, 2007
Tues. 7 p.m., Wed. thru Sat 8 p.m., Sun. 2 p.m.
$40 (212) 279-4200 or www.ticketcentral.com
Closes April 14, 2007
Reviewed by Paulanne Simmons March 16, 2007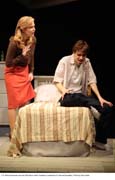 Left to right: Heidi Ambruster and Dan McCabe. Photo by Dan Cordle.
When Robert Anderson's ''Tea and Sympathy'' was first performed at the Ethel Barrymore Theatre in 1953, its explosive subject matter catapulted the playwright onto immediate fame. At that time, no one could have imagined how dated his play about coming-of-age and adolescent sexuality would become little over half a century later.
Although a teacher getting fired for swimming naked with an adolescent boy (the event that sets the play in motion) might raise a few eyebrows today too, the subject is handled with an archaic naiveté. These days the debate is over whether gays should have the right to marriage, civil unions or nothing at all.
Although it's hard to understand why Keen Company, usually so wise in its choice of revivals, should have picked this rather tame and weary play, one can't help but feel that the production could have survived with better direction and acting.
Jonathan Silverstein helms a cast that doesn't perform much better than high school students or the unfortunate denizens of daytime television, burdened with awful scripts and short rehearsal times.
Heidi Armbruster plays Laura Reynolds, the housemaster's wife, the role Deborah Kerr originated. Dressed in a cardigan, her long blond hair curling down to her shoulders, Armbruster, gives the boys tea and sympathy, but she looks like she never even heard of sex. It's certainly hard to see her frustration at being married to a man who prefers a weekend with the boys to time alone with his wife.
Dan McCabe is appropriately awkward as the sensitive Tom Lee, whom everyone, including his own father (the too nice Dan Cordle) suspects is gay. But here again there is no sexual energy. There's plenty of affection in his relationship with Laura, but where's the desire?
The last member of this triangle is Laura's husband, Bill, a man devoid of imagination and insight. Craig Mathers easily conveys all Bill's deficiencies but fails to elicit any sympathy for a man who must be living with his own inner hell.
The most interesting character is actuallyTom's roommate, Al (the excellent Brandon Espinoza). Al appears to be the most perplexed and conflicted person in the production. A basically decent young man, he has to decide whether he should put Tom's feelings above his own future at the school. Espinoza makes his character's struggle come alive in ways no one else onstage manages.
''Tea and Sympathy'' is strangely a play that's all about passion but has no passion. There's lots of soul-searching onstage but there's just no sizzle. This may be the fifties when everyone was repressed, living in the closet and sleeping in twin beds, but in the 21st century this doesn't make for very compelling or believable theater.
Hopefully, in Keen Company's next production, the selection and the staging will come up to the high standards Carl Forsman has set for his company.