Paulanne Simmons
''Blood and Rum'' Flows Along Nicely
Directed by Ian L.Gordon
Theater for the New City
155 First Ave. between 9th and 10th streets
Opened March 22, 2007
Thurs., Fri. & Sat. 8 p.m., Sun. 3 p.m.
$10 (212) 254-1109 or theaterforthenewcity.net
Closes April 22, 2007
Reviewed by Paulanne Simmons April 14, 2007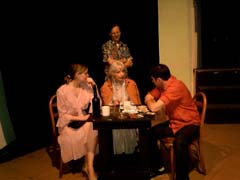 Discussions on the table in ''Blood and Rum.''
The Nazis are back. And this time they're filled with rum and blood. Ian L. Gordon's new play, named for those same two evocative liquids, has a bit of ''Key Largo,'' some of ''African Queen'' and lots of ''Casablanca.'' It doesn't have Lauren Bacall, Katherine Hepburn or Humphrey Bogart, but it does have Philip Sletteland as Col. von Shrader, who spits out his German-inflected invective like a more muscular Peter Lorre.
Anyone looking for plot originality or believable dialogue will not find it in this pastiche of steamy film noir. But, if you're up for an adventure and willing to suspend a certain artistic discrimination, you might have a lot of fun.
Gordon directs his own work and has a good sense of the mood he's after. His lush set and lewd characters recreate the spirit of the colonial Caribbean with admirable authenticity. The danger and suspense are heightened by sound designer Richard Reta's distant and not-so-distant gunfire. Music from the era is recognizable and effective.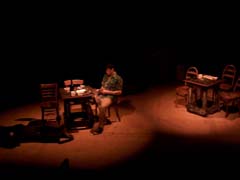 A scene in ''Blood and Rum.''
The plot, a World War II potboiler, involves the conflict between Capt. Jack Madigan (Artie Ray), a ne'er-do-well smuggler, and the Nazi colonel, who is trying to take over the world for his boss, the Fuhrer. They meet in the bar owned and operated by Neville Richmond (Andrew Mathews) and his daughter, Grace (Cindy Gunraj).
Other good guys include the British scholar, Dr. Victoria Lumely (Patricia McCurdy), her daughter Deloris (Courtney Heller) and Richmond's other daughter, Cpl. Bobby Richmond TPF (Patti Anne Ali). The bad guys include von Shrader's buddies, Sgt. Ilsa Stauffenburg (Alexa Poller, in a small role she deserves to have expanded) and the turncoat American, the vicious Mr. Bixley (the excellent Dan Tibbets).
But remember, this is the mysterious, exotic Caribbean, and things may not be exactly as they seem.
There are lots of shootouts and standoffs in ''Blood and Rum.'' Mostly it's all in fun. But one can't help wish they'd gotten some fake blood to run out of the fake wounds. (The rum is their own business.)
Perhaps it takes our own uncertain current war to make us appreciate war like it's supposed to be: with good and evil easy to understand and identify. The fact that this was never really the case just makes the fantasy more delicious.