Paulanne Simmons

A Shipwrecked Pirate Queen

''The Pirate Queen''
Directed by Frank Galati
Produced by Riverdream
Hilton Theatre
213 West 42nd St.
Opened April 5, 2007
Tues. thru Sat. 8 p.m., matinees Wed. & Sat. 2 p.m., Sun. 3 p.m.
$51.25-$111.25 (212) 307-4100 or www.ticketmaster.com
Reviewed by Paulanne Simmons, April 15, 2007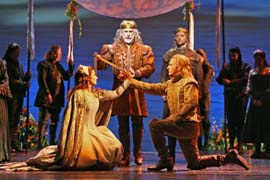 (l-r) Stephanie J. Block, Jeff McCarthy and Marcus Chait. Photo by Joan Marcus.
''The Pirate Queen,'' the long-awaited musical commissioned by ''Riverdream'' producers Moya Doherty and John MColgan and created by Alain Boublil and Claude-Michel Schonberg, the duo behind ''Les Miserables'' and ''Miss Saigon,'' has arrived. But this shipwreck pulls into port so damaged it's had to imagine how it will survive.
The show is loosely based on the life of pirate chieftain Grace O'Malley, who lived in 16th century Ireland during the time of Queen Elizabeth I, when England was gradually taking over her country. The musical brings the Virgin Queen and the Pirate Queen face to face in a battle over Ireland's future.
Unfortunately, Boublil, Schonberg and Richard Maltby, Jr., (apparently it took three writers to come up with this book) chose to dress up (or perhaps one should say weigh down) the story with thwarted romance.
Grace (Stephanie Block) loves the noble but lowly Tiernan (Hadley Fraser) but is forced to marry the cruel and cowardly Donal O'Flaherty (Marcus Chait) because her father, Dubhdara (Jeff McCarthy) wants to make a political alliance. With all the attendant weeping and wailing, Queen Elizabeth (Linda Balgord), the only interesting character in the show, doesn't appear until the seventh song.
The simplistic, shallow good guy versus bad guy plot is punctuated with robust battle scenes and might have been of interest to a ten year old if director Frank Galati didn't move the show along so slowly.
Linda Balgord as the Pirate Queen. Photo by Joan Marcus.
This epic plot, however, does give the design crew plenty of opportunity to pull out all the stops. Eugene Lee has created an overpowering set that turns the stage into the deck of a ship. Scene changes are made with all the bells and whistles Broadway has to offer. Martin Pakledinaz gave Queen Elizabeth a dress one suspects the Queen herself would have loved but his costumes for most of the others is pretty generic.
But of course what everyone was looking forward to in this show is the creations of Irish dance choreographer Carol Leavy Joyce. This proves to be something of a disappointment. While Joyce has filled the show with energetic and intricate step dancing, she's also filled the stage so completely one can't tell the dancers from the dancing.
Like ''Les Mis,'' ''The Pirate Queen'' is a sing-through with operatic pretensions. But Schonberg is no Mozart or Puccini. The music is so monotonous and boring it's often hard to stay awake. The singers all have adequate voices but they don't distinguish themselves any more than the music.
What's more, Balgord's shrill soprano doesn't seem appropriate for a woman of Queen Elizabeth's stature. And one wished that Fraser had found something better to do with his hands than pound his chest and clutch his heart.
It's possible ''The Pirate Queen'' can survive on out-of-town ticket sales to people who listen to the hype and don't read the reviews. Otherwise, it's hard to imagine how this ship will stay afloat.