Paulanne Simmons

A New Look at The Scarlet Letter

''The Scarlet Letter''
Directed by Stuart Vaughan
Presented by The New Globe Theatre
The Gene Frankel Theatre
24 Bond St.
Opened June 3, 2007
Wed. thru Fri. 8 p.m., Sat. 2 & 8 p.m.
$30 & $15 (students) (212) 279-4200 or www.ticketcentral.com
Closes June 17, 2007
Reviewed by Paulanne Simmons June 3, 2007
(Left to Right) Alessandra Ziviani, Rebecca
Damon, Nick Fleming, Sondra Gorney and Gray Stevenson. Photo by by Ryan Mueller.
The myriad students who have ploughed through The Scarlet Letter might be surprised to learn that the high school perennial has dramatic possibilities. But Stuart Vaughan, who has directed, taught and founded companies from coast to coast, has created a dramatic version of Hawthorne's novel that can hold its own not only with the venerable classic, but also with the finest of theatrical pieces. It is currently onstage at The New Globe Theatre, the company's second production of the 2006-2007 season.
Vaughan, who founded The New Globe Theatre with Vincent Curcio and Anne Thompson Vaughan, not only adapted the play with Marie Kreutziger, he also directs. And in his capable hands Hawthorne's tale of adultery, guilt and revenge becomes a drama of Shakespearean proportions.
The most obvious similarity with Shakespeare is Vaughan and Kreutziger's tremendous use of the English language. One would have to go back to Hawthorne to find out how much is original. But Hester's description of herself as a ''touch of struggling ivy on a crumbling wall'' is just one example of the play's poetic use of language.
Like many Shakespearean productions, ''The Scarlet Letter'' is spare of scenery, using sound to create atmosphere and leaving the rest to colonial costumes and the imagination. This also allows the actors to create their own time and space, which they do superbly.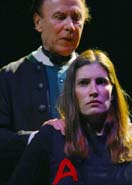 (Left to right) William Shust as Chillingworth and Jana Mestecky as Hester. Photo by Ryan Mueller.
Although the play is ostensibly about Hester (the capable Jana Mestecky) and her secret lover, Reverend Arthur Dimmesdale (the soulful Craig Rising), much of this script hinges on the character of the wronged husband, Roger Chillingworth (masterfully portrayed by William Shust).
Chillingworth is evil and conniving, but Shust also makes him a tragic figure, a man turned into a fiend by his desire for revenge. Drawing on his experience with Shakespeare, Shust reminds us of some of the Bard's most enduring protagonists (Macbeth and Othello come to mind).
The production takes considerable liberties with Hawthorne's work, and one can well imagine that Hawthorne, a descendent of Puritans, might roll over in his grave if he knew what actors are permitted to do onstage in the 21st century. But even more shocking for Hawthorne might be the concessions his adaptors have made in the name of dramatic action.
If Hawthorne's Scarlet Letter is about Hester's submission to the standards of morality she once flouted, Kreutziger and Vaughan's is about Dimmesdales' acceptance of guilt and his eventual salvation. This is entirely in keeping with Hawthorne's dramatic ending, if not his thematic intent.
Throughout the play, the portentous scarlet A hangs over the stage. It is the same A that Hester wears on her breast. It is the A of the sinner, the adulteress; and Vaughan has wisely kept it prominent in his show. It is echoed in the red dress of the impish Pearl (Bridget Riley) who seems to have been forged in the fires of her mother's passion and pain, or perhaps the fires of hell.
There's a wonderful sense of the symbolic in this production. It's evident in the colors, the language and the sounds Vaughan uses to create these tormented characters living in the repressive culture of colonial Massachusetts.
Perhaps Hawthorne is not rolling over in his grave after all. Perhaps he is smiling.