Paulanne Simmons
"Elvis People"…Touched by The King

"Elvis People"
Directed by Henry Wishcamper
New World Stages
340 West 50th St., between 8th and 9th streets
Opened June 21, 2007
Tues. thru Sat. 8 p.m., matinees Wed. and Sat. 2 p.m. & Sun. 3 p.m.
Additional performances July 2, 8 p.m. & July 8 7 p.m.
Special performance Aug. 16 on the 30th anniversary of Elvis's death with post-show reception and talkback $99
$65 (including $1 theater restoration fee) (212) 239-6200
Reviewed by Paulanne Simmons June 22, 2007.
Nick Newell, Jenny Maguire in "The Button". Photo by Carol Rosegg.
Behind every legend there is the person, but there are also all those people who made that individual into the legend. Doug Grissom's new play, "Elvis People," explores the motives and emotions of the many people whose lives were in some way touched by "The King."
Effortlessly and effectively directed by Henry Wishcamper ("The Polish Play, A Conflation of Macbeth by William Shakespeare and Ubu Roi by Alfred Jarry" and "Pullman Car Hiawatha"), "Elvis People" is a series of vignettes that cover Elvis's influence from his introduction to mass media via "The Ed Sullivan Show" ("Why doesn't he stop moving?" "He dances like colored people") to his untimely death in 1977, and beyond.
We meet two sycophants who claim they "really liked the guy" and go hysterical when they realize there is no more fudge ripple for their boss; a couple remembering the time Elvis wouldn't buy them the exact make of car they wanted; The Colonel, Elvis's manager, who tells the composer of "In the Ghetto" that Elvis won't want to sing his song; two bumbling body-snatchers and an Elvis impersonator. In one of the most moving scenes of the play, two men survive Viet Nam, one because he loves listening to Elvis, the other because he can't stand him.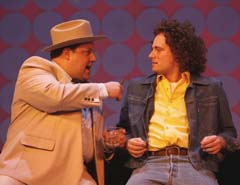 Jordan Gelber, Nick Newell in "Songwriting for E". Photo by Carol Rosegg.
"Elvis People" is performed by an ensemble cast of six talented actors: Jordan Gelber, Jenny Maguire, David McCann, Nick Newell, Nell Page and Ed Sala. They play mostly funny and sometimes sad people. These people are foolish, lonely and disappointed. Somehow they find solace in becoming part of Elvis's circle, even if they have never actually met the man. Grissom treats them with both irony and sympathy.
If "American Demographics" reports that 94% of all Americans say their lives have been touched by Elvis is in some way, these are all very real people, overweight, balding, aging and awkward. Grissom and Wishcamper seem to have a visceral understanding of these people and never let the stereotype overtake the personality.
The show is punctuated with videotapes of Elvis and his times (video projection design is by Maya Ciarrocchi), as well as music, both by Elvis and other relevant performers. But these elements serve to create atmosphere and fortunately do not give the show any aspect of a documentary.
There may be those who complain there is not enough Elvis in this show. We don't ever see the real man onstage and we only hear him as an offstage voice. But the truth is Elvis is everywhere in "Elvis People." The people who adore him have incorporated Elvis into the very fiber of their being, and not just the impersonator.
"Elvis People" is a wonderful tribute to both The King and his subjects.