Paulanne Simmons
Roundabout Brings a 1940s Comedy to Life
"Old Acquaintance"
Directed by Michael Wilson
American Airlines Theatre
227 West 42nd St., between 7th and 8th avenues
Opened June 28, 2007
Tues. thru Sat. 8 p.m., Wed., Sat. & Sun. matinees 2 p.m.
$51.25-$86.25 (212) 719-300 or ww.roundabouttheatre.org
Closes Aug. 19, 2007
Reviewed by Paulanne Simmons June 23, 2007.

Pictured (l-r): Harriet Harris, Margaret Colin. Photo Credit: Joan Marcus, 2007.
At the end of the first act in "Old Acquaintance," Kit (Margaret Colin) says "It's funny how much you can dislike your best friend." Which pretty much is the sum and substance of Roundabout Theatre Company's wonderful revival of John van Druten's 1940s drawing room comedy about two women who were childhood friends. Both women have now become writers, and they are still friends...sort of.
The friend Kit is referring to is the super wealthy Mildred Watson Drake (Harriet Harris), one of those successful "three name women writers." Mildred, despite her wealth and success as a writer ("She has an extraordinary gift of common sense that never gets near her own books"), has always been jealous of Kit because, although Kit had everything, Kit had all the fun. Now Kit also has the confidence of Mildred's almost grownup daughter, Deirdre (Diane Davis)) and a lover several years her junior, Rudd Kendall (Corey Stoll).
Like any good writer of drawing room comedy, van Druten supplies the plot of "Old Acquaintance" with a good deal of unexpected twists, many precipitated by the romantic exploits of Mildred's ex-husband, Preston (Stephen Bogardus). But for the most part what makes this comedy work is the excellent repartee between the two (mostly feuding) friends, Kit and Mildred.
This kind of genteel comedy may have gone out of style with the 40s, or most certainly with the 50s, but the pleasure of hearing really witty dialogue delivered with split-second timing and accompanied by perfect body language is always welcome.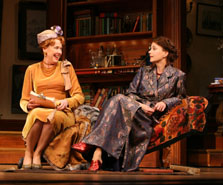 Pictured (l-r): Harriet Harris, Margaret Colin. Photo Credit: Joan Marcus, 2007.
Under the skilled direction of Michael Wilson (artistic director of Hartford Stage), the chemistry between the two old friends is constantly igniting new conflagrations. Just when one difficulty is settled a new problem arises, and when that one is settled someone new comes onstage, a telephone rings or something unforeseen is discovered and the two women are at it again. And of course Harris and Colin are simply superb.
Although Bogardus and Stoll are perfect straight men, Davis is callow and callous as a young girl should be, and even the obligatory servants, Susan (Cynthia Darlow) and Karina (Gordana Rashovich) have their comedic moments, it is the interaction of the two veteran actresses, Colin (who received the Drama Desk nomination of Outstanding Actress in a play for her performance as Margaret Littlefield in John Patrick Shanley's "Defiance") and Harris (returning to Broadway after her 2002 Tony Award-wining role as Mrs. Meers in "Thoroughly modern Millie"), that makes "Old Acquaintance" a sheer delight to watch. The other delight is Alexander Dodge's terrific set design, which contrasts Kit's sophisticated, slightly bohemian book-lined Village apartment with its dusty skylight and wood balcony, and Mildred's splendiferous mansion, complete with sweeping staircase and crystal chandelier.
By the end of the play, after all the major disputes are settled to make way for new ones, it's quite obvious what keeps these two women together: a shared history, mutual regrets, genuine affection, or as Kit puts it, "She's the only one who remembers I used to be called Katie."