Paulanne Simmons
Jim Van Slyke is a Cabaret Singer to Watch

"The Evolution of Me"
Jim Van Slyke, with musical direction by Rick Leonard
Laurie Beechman Theatre
407 West 42nd St.
July 10, 2007
Reviewed by Paulanne Simmons July 10, 2007.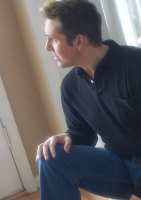 Jim Van Slyke, star of "Evolution of Me."
Jim Van Slyke says he brought his new show, "The Evolution of Me," to The Laurie Beechman Theatre after an exciting year. Not only was his name once listed under the name of Justin Timberlake, he also met his new musical director, Rick Leonard, this year. The result has been some major changes in his repertoire. If his show at the Beechman is any indication, Leonard's influence has been all to the good.
Van Slyke has broadened his repertoire to include light as well as more soulful music. He sings a medley of sentimental, serious and funny songs that show off his considerable versatility.
Steve Lynch's "Gay," with lines like "You have opened new doors/Get over here and drop your draws" sits comfortably next to Tom Waits' "Rainbow Sleeves" or Jason Robert Brown's "Someone to Fall Back On."
But quite naturally, as in most cabaret acts, love prevails. And Van Slyke's tender and powerful voice makes the trials and triumphs of love ring true in songs like "Love Changes Everything" and "Take Care of My Heart."

Van Slyke's "willingness to step out of the traditional cabaret box" allows him to sing songs he says have nothing to do with the rest of the show, like Guettel's "Awaiting You" alongside "Sail Away," one of Laurie Beechman's standards, which he said he sang in honor of the theater's namesake, as he admitted he "stole one of her arrangements" to do it.
Van Slyke is fortunate in having an accompanist who not only gives him outstanding instrumental backup, but can also sing. And in Jeff Blumenkrantz's "Moving Right Along," Leonard helps him with lyrics that include "Too pale, too male, too I went to Yale."
"The Evolution of Me" is Van Slyke's first new show in nearly two years; it follows his "Open Road" debut album tour. Van Slyke says the show is the result of Leonard's wish to "push me to my adulthood." If that is the case, Van Slyke certainly seems to be coming of age.