Paulanne Simmons
"Whoop-Up" Is a 'Flop' More People Should See

"Whoop-Up"
Directed by David Norman
The Duplex
61 Christopher St.
July 10 thru 12, 2007
Reviewed by Paulanne Simmons July 11, 2007.


Brian Walker in "Whoop-Up". Photo by Suzanne Adams.
In 1943, "Oklahoma," Rodgers and Hammerstein's musical celebrating the statehood of what was formerly Indian Territory opened at the St. James Theatre. In 1946, Irving Berlin, and Dorothy and Herbert Fields' "Annie Get Your Gun," which featured a stereotypical Chief Sitting Bull, opened at the Imperial Theatre and was also a huge success.
In 1958, Sy Feuer and Ernest H. Martin's "Whoop Up" a musical that takes a closer look at the history and the stereotypes pertaining to Native Americans opened at the Shubert Theatre, ran for 56 performances and closed. It was Feuer and Martin's only flop. Perhaps the world just wasn't ready.
This year Open Doors Theatre Company presented the 50th anniversary production of "Whoop-Up" as the third show in their "Closing Notice" series. For most of the people at The Duplex theater, it was the first time they even heard of the musical. So it came as some surprise to find out that its music is catchy, its words are clever and its plot is light-hearted and at times gently satirical.
"Whoop-Up" is about Glenda (the outstanding Alison Renee Foster), a tough and savvy woman who runs a saloon half-on and half-off the Rocky Boy Indian Reservation, and how she gets her man, the sexy, over-confident Joe Champlain (Brian Walker), son of the French Canadian half-breed, Louis Champlain (John Weigand) and Mama Champlain (Gretchen Reinhagen).
Glenda's place is "home sweet home away from home," a spot where "you don't need a tie to tie one on," Glenda and the cast sing. And it's the hangout of Billie Mae Littlehorse (Nicole Hilliger), "the Zsa Zsa Gabor of the Western Plains," who also has her eye on Joe.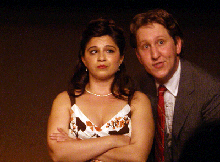 Rachel Louise Thomas, Matt David. Photo by Suzanne Adams.
The secondary love interest is between Joe's sister, Mary (Rachel Louise Thomas) and George Potter (Matt David), a local car salesman. Their relationship is complicated when Potter tries to sell Joe a car and the reluctant and racist bank Mary works for is asked to make the loan.
Shows in the "Open Door" series are presented as "living cast albums," with a truncated script and the entire score. But director David Norman kept the show moving with plenty of action and dance, choreographed by Dawn Trautman, that were remarkably robust considering the Duplex's small stage.
"Whoop-Up" makes fun of people like Mr. Kallenhach (Dan Joiner) the car dealership owner, who believes Indians are "feathered friends" who are "happy children who need to be protected against their own folly." If the show portrays Indians as sometimes victims of their own folly, the white men are certainly no wiser.
One of the problems with this production (and the original, as well) is that the Indians are not played by Native Americans. In fact the actors aren't even made to look particularly "Indian." This made it hard to tell the difference between the two races and what the fuss was all about anyway. It may have been intentional, but it certainly was confusing.
Despite minor problems, "Whoop-Up" is way better than many of the hits one sees on Broadway today. If the show is someone's idea of a flop, this reviewer would like to see many more of them.