Broadway Reviews
Dharon E. Jones as Jets leader Riff and Amar Ramasar as Sharks leader Bernardo. Photo by Jan Versweyveld.
West Side Story 2020
Ivo van Hove's brilliant reimagining of "West Side Story" tells gritty tale of immigrants, racism and police brutality. The Laurents/Sondheim story of a Hamlet style romance between two cultural opposites Tony (Isaac Powell) and Maria (Shereen Pimentel) turns much tougher, more realistic, darker, grittier than it's ever been before. This is not your grandma's "West Side Story." By Lucy Komisar.
Celia Rose Gooding as Frankie, Derek Klena as Nick, Elizabeth Stanley as Mary Jane, Sean Allan Krill as Steve. Photo by Matthew Murphy.
"Jagged Little Pill" gets it right
"Jagged Little Pill" is a terrific pop/rock morality tale, a soap opera musical for teens to help them understand their parents. Not bad for parents either. It's based on the music of Alanis Morrisette, with a book by Diablo Cody and smart direction by Diane Paulus. It's a mix of a few terrific professionals and very good all around musical theater actors. Especially Celia Rose Gooding gets into your blood and is hard to forget. By Lucy Komisar.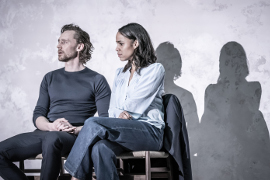 Tom Hiddleston and Zawe Ashton. Photo by Marc Brenner.
Betrayal
Straight from a successful run in London this past spring, we have Pinter's "Betrayal" again on Broadway. It is swathed, deservedly so, in over-the-top glorious reviews for both its director Jamie Lloyd, its English cast Tom Hiddleston, Zawe Ashton, Charlie Cox, and the play's pitch-perfect technical team. By Edward Rubin.
THE HEIGHT OF THE STORM -- Eileen Atkins as Madeleine, Jonathan Pryce as André. Photo by Hugo Glendenning.
The Height of the Storm
What happens to the partner of a 50-year marriage living without the other? What if the husband André dies and the wife Madeleine survives? What if the wife dies? What would each do? How would each cope? How would their children, in this case grown daughters, react?The Roundabout's "The Height of the Storm," written by Florian Zeller, translated from the French by Christopher Hampton, directed by Jonathan Kent, is a mystical memory play about surviving death and loss. By Lucy Komisar.
Jacqueline B. Arnold as La Chocolat, Robyn Hurder as Nini, Holly James as Arabia and Jeigh Madjus as Baby Doll. Photo by Matthew Murphy.
Moulin Rouge
"Moulin Rouge," according to Lucy Komisar, is a hokey melodrama with old songs to choke a juke box. It's playing now at the Al Hirschfeld Theater. For how long, who knows, but the qualities Lucy cites were also present in the 2001 film, which only her editor and some other very select people still remember with disgust.
Pictured (I to r): Harvy Blanks, Jonathan Burke, Daniel J. Bryant, Ezra Knight, Toney Goins, Eric Berryman, Phillip James Brannon, April Matthis and Kenn E. Head. Photo by Joan Marcus.
Two views of "Toni Stone"
April Matthis, as Toni Stone (1921-1996), the first woman to play professional baseball in the Negro League, is knocking it out of the ballpark every night at the Laura Pels Theater through August 11.The play, lightly based on Martha Ackmann's book "Curveball: The Remarkable Story of Toni Stone," is overwhelmingly inspirational, deeply humane, and totally moving. By Edward Rubin and Lucy Komisar.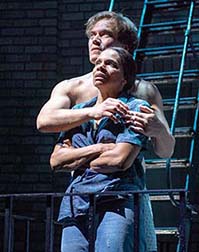 Michael Shannon as Johnny and Audra McDonald as Frankie. Photo by Deen van Meer.
"Frankie & Johnny in the Clair de Lune," a story of working-class love lives
It opens with sensual and noisy sex in the bed, the bodies turning and pushing against each other, the familiar noises with great realistic direction by Arin Arbus. And then not quite what you might expect. Frankie falls out of bed. And the post sex conversation; he compliments her breasts. She is not pleased. Is this how a love affair begins? By Lucy Komisar.
Nathan Lane as Gary, Kristine Nielson as Janice. Photo by Julieta Cervantes.
"Gary: A Sequel to Titus Andronicus" surreal comedy of mass political murder
Wildly funny and clever, this is a play a serious theater-goer cannot miss. It's a terrific campy surreal take on murderous war from the point of view of the workers who have to clean up the mess, the bloody bodies of Shakespeare's "Titus Andronicus."It takes only three actors, though the set requires some imagination. It should be produced all over the country! By Lucy Komisar.
Rana Roy as Stephanie Rahn and Jonny Lee Miller as Larry Lamb. Photo by Joan Marcus.
"Ink"
The Sun is a popular newspaper for the undereducated British masses. It was a broadsheet started in 1964, then reinvented as a tabloid five years later by the Australian Robert Murdoch and Larry Lamb, a North Englander he named as editor. They were outsiders to the London Fleet Street crowd and felt it. "Ink" a vivid newspaper story mixed with Murdoch's Sun melodrama.
by Lucy Komisar.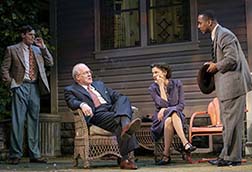 Benjamin Walker as Chris Keller, Tracy Letts as Joe Keller, Annette Bening as his wife Kate and Hampton Fluker as George Deever. Photo by Joan Marcus.
"All My Sons"denounces America's murderous corporate corruption
Jack O'Brien's crisp staging of Arthur Miller's iconic 1947 American morality play lays bare the corruption underlying the normalcy of American society. This story of 70 years ago could be easily replicated today. Oh, so easily. By Lucy Komisar.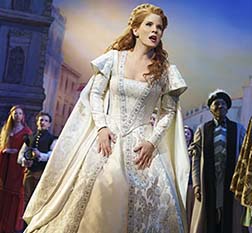 Kelli O'Hara as Katherine. Photo by Joan Marcus.
"Kiss Me Kate" at The Roundabout
How do you take a 40s musical built around a sexist Shakespeare play and make it delight today's audiences? With pizazz and charm, if you are Roundabout Theatre director Scott Ellis. In this version of Cole Porter's and the Spewacks' "Kiss Me Kate," the feisty heroine gives as good as she gets, and she and her erstwhile spouse playing Katherine and Petruchio land some good kicks to the others' derrieres. By Lucy Komisar.
Andre De Shields as Hermes. Photo by Matthew Murphy.
Hadestown
The afternoon Paulanne Simmons saw Anais Mitchell and Rachel Chavkin's "Hadestown," at the moment when Orpheus, despite Hades' injunction, turns around to face Eurydice, a young lady seated several rows in front of her gasped, "Oh no!" It's possible she was not familiar with the myth and thus was not prepared for its tragic ending. But Paulanne likes to think the dramatic staging and absorbing retelling of this ancient tale so captivated her that she forgot everything she had previously known. Great theater can do that.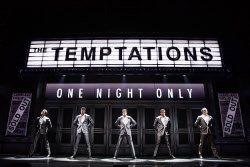 L-R: Ephraim Sykes, Jawan M. Jackson, Jeremy Pope, Derrick Baskin, and James Harkness in AIN'T TOO PROUD. Photo by Matthew Murphy.
"Ain't Too Proud– The Life and Times of The Temptations"
The story behind "Ain't Too Proud," as told by book writer Dominique Morisseau, is mostly a story of the music and not the men. This is both a strength and a weakness in the show. To be sure, the music of The Temptations is some of the best that ever came out of Motown. Songs like "My Girl," "Ain't Too Proud to Beg" and "Just My Imagination (Running Away with Me)" are iconic and unforgettable. Director Des McAnuff, along with music director Kenny Seymour and choreographer Sergio Trujillo, has brought that era spectacularly back to life. By Paulanne Simmons.
The "Too Darn Hot" number. Photo by Joan Marcus.
Kelli and Cole spark a "Kiss Me, Kate" revival
"Kiss Me, Kate" was the first Cole Porter show with musical numbers that advance the plot, none more clearly than the curtain-raiser, "Another Op'nin', Another Show." Petruchio's description of Katharina, while playful, applies to Kelli O'Hara in full measure. "She is beautiful, witty and affable, he has heard, among other wondrous qualities," and he has arrived "to make mine eye the witness of that report." You might consider doing the same. By Philip Dorian.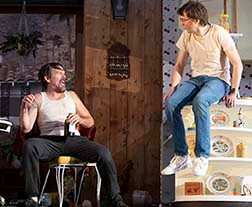 Ethan Hawke as the drinking brother Lee and Paul Dano as Austin. Photo by Joan Marcus.
"True West" by Sam Shepard is a 1980 too over-the-top satire of movies

A satire about media ought always to be in fashion. The current revival of the film "Network" as a play works brilliantly to skewer corrupt television. This revival of Sam Shepard's satire about the Hollywood movie business doesn't hit that mark. Maybe it worked in 1980 when it premiered, but nearly 40 years later, it's too over-the-top. By Lucy Komisar.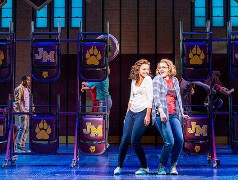 From left: Christopher Sieber, Angie Schworer, Beth Leavel, Btooks Ashmanskas, Josh Lamon "Changing Lives". Photo by Deen van Meer
Prom
A couple kissing in front of Macy's in Herald Square is hardly newsworthy, but one at last year's Thanksgiving Day Parade actually marked a milestone in live TV – and was also a spoiler for a Broadway musical. Televised by NBC, "It's Time to Dance," the finalé number from "The Prom," ended with two young women sharing a loving kiss. So now you know how "The Prom" resolves. But any audience member who doubts that Indiana high schoolers Emma (Caitlin Kinnunen) and Alyssa (Isabelle McCalla) will end up together, are asheartless as the PTA folks who cancelled the prom because Emma wanted to bring Alyssa as her date. With composer Matthew Sklar and choreographer/director Casey Nicholaw, the cast is nigh flawless. Don't wait until someone else asks her/him/they/hir/zim. Get yourself a date and go to "The Prom." By Philip Dorian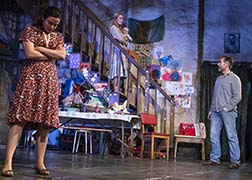 THE FERRYMAN -- Laura Donnelly as Caitlin Carney, Genevieve O'Reilly as Mary Carney and Paddy Considine as Quinn Carney. Photo by Joan Marcus.
"The Ferryman" a stunning indictment of both sides in the Irish Republican struggle
In Jez Butterworth's gorgeous play, directed by Sam Mendes with subtle power and intelligence, a dark moment suddenly is transformed into a charming rough idyll of Irish family life. Irish because it involves a brood of seven children, a lot of whiskey drinking, wit and occasional dancing of jigs. By Lucy Komisar.
THE NAP -- Ben Schnetzer, Johanna Day. Photo by Joan Marcus.


Two views of "The Nap"
Contrary to its misleading title, "The Nap," Richard Bean's newest offering, making its American premiere under the direction of Daniel Sullivan, has nothing to do with sleep. Rather it's a rowdy and riveting farce. By Paulanne Simmons and Lucy Komisar.
PRETTY WOMAN -- Samantha Barks as Vivian Ward and Andy Karl as Edward Lewis, at the opera. Photo by Matthew Murphy.
"Pretty Woman" morality story pits prostitution v predatory capitalism
A story for our times about a billionaire Edward Lewis (Andy Karl) without morals, who would destroy a shipbuilding company and fire its workers, but learns something from a hooker. A Cinderella story which would not quite make it today. Because it's about a prostitute who reforms her John. It was a movie hit 20 years ago, but that was an epoch away. The book is by Garry Marshall and J.F. Lawton, the music and lyrics by Bryan Adams and Jim Vallance, based on the film by Lawton. Lucy Komisar would reject the story on the anti-feminist face of it, though turns out the female protagonist is smarter than the male. But Komisar liked the show.
THE NAP -- Ben Schnetzer, Johanna Day. Photo by Joan Marcus.


"The Nap" Will Keep You Awake and Laughing
Contrary to its misleading title, "The Nap," Richard Bean's newest offering, making its American premiere under the direction of Daniel Sullivan, has nothing to do with sleep. Rather it's a rowdy and riveting farce. By Paulanne Simmons.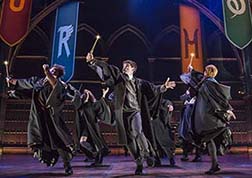 HARRY POTTER AND THE CURSED CHILD -- The company. Photo by Matthew Murphy.
"Harry Potter and the Cursed Child," a stunner for set & magic
Mixed with the magic and terrific scenery, there's a lot of stuff about fathers and sons, which is really the theme of the play, or the two plays which you can see on succeeding nights or a one-day marathon. Critics were requested not to give away the plot, which is easy to comply with since it's rather silly. By Lucy Komisar.



BERNHARDT/HAMLET -- A backstage dinner party. Photo by Joan Marcus.

"Bernhardt/Hamlet" (and McTeer) on Broadway
Historical fiction is a tricky genre. Plain history can be academic (read: boring), and inserting identifiable people as principals in pure fiction can be presumptuous, or a copout. "Bernhardt/Hamlet" straddles the extremes brilliantly; the precise inter-action among the actual people may or may not have happened as portrayed, but their involvement in the historical events makes it all plausible. Theresa Rebeck's comedy is period-specific without reinforcing misconceptions about how people related and communicated 'then'. It is fascinating even just for that. By Philip Dorian.


Condola Rashad as Saint Joan. Photo by Joan Marcus.

Saint Joan
Bernard Shaw was a feminist. And a religious skeptic. Who better than to tell the story of Saint Joan? How do you do that when you are a socialist and not a militarist? You focus on the hypocrisy of the religious establishment, that had no problem with war, but only with who keeps power. By Lucy Komisar.
Two views of "My Fair Lady"
Paulanne Simmons writes that from Catherine Zuber's elegant costumes and Michael Yeargan's sumptuous set, to the delightful interpretation of Lerner and Loewe's magnificent score brought to life by Ted Sperling's musical director, Robert Russell Bennett and Phil Lang's arrangements, and Marc Salzbeg's sound design, Lincoln Center's "My Fair Lady" is a treat for the eyes and ears. Lucy Komisar adds that this time there's a feminist kick. And some class solidarity. Bartlett Sher's progressive production brings the musical back to its roots with references to the women's suffrage movement. Sher is attentive to George Bernard Shaw's intentions to comment on class disparity and social inequality. With wonderful direction, vocals, and set design, this comedy of manners is sure to delight.
Renee Fleming as Nettie Fowler and company. Photo by Julieta Cervantes.
Carousel
"Carousel" is a gorgeous show with a hokey, simplistic, no-politics story, says Lucy Komisar. The vocals are thrilling, led by opera diva Renée Fleming who presents her solos as if they were arias. And the naturalistic sets by Santo Loquasto, from the top of the merry-go-round to whaling boats in the sea and lobster cages are entrancing. It's a gorgeous show, if you forget the story.
Brian Tree Henry as William, Beth Powley as Dawn, Michael Cera as Jeff, Chris Evans as Bill. Photo by Joan Marcus.
Two views of "Lobby Hero"
It hardly seems possible that a play about murder, rape and police corruption could be even remotely amusing. Yet, in many ways, Kenneth Lonergan's "Lobby Hero" might be the funniest show on Broadway this season. Paulanne Simmons and Lucy Komisar weigh in.
Glenda Jackson, Alison Pill and Laurie Metcalf in "Three Tall Women." Photo by Brigitte Lacombe.
Two views of "Three Tall Women," 2018
It's only a few months before the 26th anniversary of the first American appearance of Edward Albee's masterpiece, "Three Tall Women," yet we've seen surprisingly few revivals. It's admittedly difficult to perform, but hundreds of our high schools have performed the extremely demanding constant dance numbers of "A Chorus Line" without even one cast member who can really dance. Certainly those who love Albee's plays can rejoice at this masterful new version. The legendary actress Glenda Jackson—who returned to the stage after 28 years in England's Parliament and got raves playing King Lear in Shakespeare's play with The Royal Shakespeare Company—stars with two admired, award-winning American actresses. And it's gorgeously designed (Miriam Buether) as well as excitingly directed by Joe Mantello, one of Broadway's most honored directors. Herbert Simpson and Lucy Komisar weigh in ambivalently. Lucy writes she'd love to see a feminist "Three Tall Women, Part 2."
Tamyra Gray as Papa Ge. Photo by Joan Marcus.
"Once on this Island" is a Gorgeous Folk Opera About Color and Class in the Caribbean
Called a charming, surreal, and politically sharp-edged play, Lucy Komisar advises audiences not to arrive late to this production. Full of magical realism created by director Michael Arden, this charming folk opera is about class and race. By Lucy Komisar.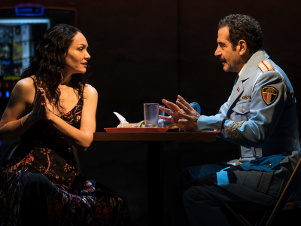 Katrina Lenk as Dina and Tony Shalhoub as Tewfiq in
The Band's Visit. Photo by Matthew Murphy.
"The Band's Visit"
When a musical transfers from off-Broadway to Broadway, there are always a few essential questions. Will the production work on a bigger stage? Will the sound fill a larger house? Will the show be true to the original, even with new members in the cast? Happily, The Band's Visit, helmed by David Cromer, answers all these questions with a resounding yes. By Paulanne Simmons.
Bette Midler as Dolly Gallagher Levi and waiters at the Harmonia Gardens. Photo by Julieta Cervantes.
Aaah, hmmm, but we'll bette you'll love it too.
"Hello Dolly" with Bette Midler is outdated on feminism and talent. But the audience loved every starpower minute of it. By Lucy Komisar.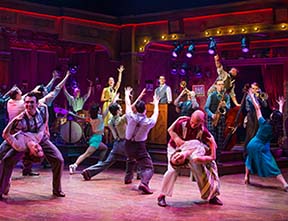 Bandstand. Photo by Jeremy Daniel.
Bandstand
Terrific 40s sound and dancing – choreography by Andy Blankenbuehler – raises the level of a rather corny and predictable musical about a World War II vet who puts together a swing band to compete in a song contest. By Lucy Komisar.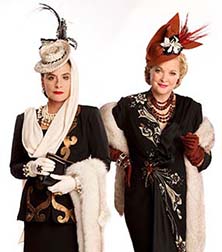 Patti LuPone as Helena Rubenstein and Christine Ebersole as Elizabeth Arden. Photo by Joan Marcus.
In "War Paint," cosmetics titans Rubenstein and Arden must deal with male execs as well as the market.
This imagining of the lives of two powerful women who founded cosmetics empires has been created by men – book (Doug Wright), music (Scott Frankel), lyrics (Michael Korie), direction (Michael Greif), choreography (Christopher Gattelli). It's a great production. But think of it as guys' take on women. By Lucy Komisar.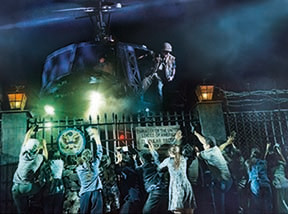 The famous helicopter escaping the fall of Saigon, and Vietnamese desperate to get on it. Photo by Matthew Murphy
Miss Saigon is Back
Claude-Michel Schönberg and Alain Boublil found worldwide success with "Les Misérables," a drama of the political. The personal stories were of Jean Valjean, the man imprisoned for stealing a loaf of bread, and the masses of the oppressed he represented. There was a minor love story. But in "Miss Saigon," the star-crossed lovers are the major focus, with the crisis of America's war in Vietnam and how it destroyed the country just a backdrop. So, this play is often hokey and not very satisfying. By Lucy Komisar.
Nick Cordero as Sonny, Hudson Loverro as Calogero. Photo by Joan Marcus.
"A Bronx Tale"
It's a knock off of "West Side Story," here Italians vs blacks, and very hokey, but "A Bronx Tale" has a certain charm and pizazz nonetheless. The place is Bedford Avenue, tenements with fire escapes and pushcarts. And kids singing doo-wop. They are working class Italians, circa 1960."A Bronx Tale" is musical coming of age with a twist: kid grows up among hoodlums By Lucy Komisar.
Josh Groban as Pierre in a set that seems like a night club. Photo by Chad Batka.
"Natasha, Pierre & the Great Comet of 1812"
This immersive, hokey, utterly engaging production is one of the memorable plays to see this season. In fact, it almost feels as if you don't just see it, you are in it. The audience is dispersed around a gorgeous set, seated at rows and tables, some on the stage, backed by red drapes and paintings, as actors move through the aisles and on risers. Sometimes lighted chandeliers descend or disco lights flash. Everything seems red, white and black."Natasha, Pierre & the Great Comet of 1812" flashes across Broadway. By Lucy Komisar.
Nathan Lane as editor Walter Burns. Photo by Julieta Cervantes.
"The Front Page"
Nathan Lane excels as the over-the-top newspaper editor Walter Burns in this near 90-year-old noirish comedy that has some political nuggets hidden in its hokey scenario. It's given a fine, only slightly tongue in cheek, reprise by director Jack O'Brien. "The Front Page" is an engaging politically advanced 90-year-old noirish comedy. By Lucy Komisar.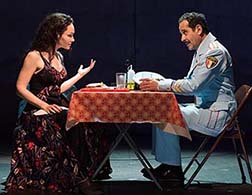 Katrina Lenk as Dina, Tony Shalhoub as the conductor. Photo by Ahron R. Foster.
"The Band's Visit."
An Egyptian police band, the grandly named Alexandria Ceremonial Police Orchestra, is supposed to play at an Arab cultural center in Israel, but gets the town's name wrong at the bus station and ends up in an Israeli backwater. "The Band's Visit" is a charming gem about human connections across political divides. By Lucy Komisar.
"A Bronx Tale"
Since "A Bronx Tale" has already been a solo show and a film, it might have been inevitable that it eventually become a musical. This is not necessarily a terrible thing. In fact, the show currently at the Longacre Theater is not at all bad. By Paulanne Simmons.


Liev Schreiber as le Vicomte de Valmont, Elena Kampouris as Cécile Volanges. Photo by Joan Marcus.
"Les Liaisons Dangereuses"
Lucy Komisar writes she seems be using the word a lot lately: hokey. Chandeliers with lit candles descend to sounds of operatic "ah ah" and pretentious violins. The story is based on a French epistolary novel written in 1782 and meant as a satire. But with the direction by Josie Rourke, you get the feeling that audiences are invited to enjoy the sex stuff. It's basically about a guy putting notches on his bedpost. ("Sex in the 18th-century French City"?)
Corbin Bleu as Ted, Megan Sikora as Lila. Photo by Joan Marcus.
Two views of "Holiday Inn"
"Irving Berlin's Holiday Inn" is charming fluff highlighting great songs of the 40s, but if you love 40s music, as I do, just forget the silly plot. Besides, the production and the actors are charming. And there is 40s scat. Also jazzy music, dance kicks, swing and tap. The show is based on a 1942 movie, but a lot of the songs have been added. It's the only major holiday themed production in New York City whose specific marketing goal is to brighten The Great White Way during the Holidaze Season. By Edward Rubin and Lucy Komisar.
The Jewish men dancing. Photo by Joan Marcus.
"Fiddler on the Roof"
When can it be more relevant to look at the politics of theater? In this year of bizarre reaction, "Fiddler" continues to be the quintessential representation of popular struggle. This is a brilliant production by Bartlett Sherr, with stars Danny Bernstein and Jessica Hecht, major actors of our time. They are supported by an excellent ensemble cast. By Lucy Komisar.
"A Bronx Tale"
Since "A Bronx Tale" has already been a solo show and a film, it might have been inevitable that it eventually become a musical. This is not necessarily a terrible thing. In fact, the show currently at the Longacre Theater is not at all bad. By Paulanne Simmons.

Liev Schreiber as le Vicomte de Valmont, Elena Kampouris as Cécile Volanges. Photo by Joan Marcus.
"Les Liaisons Dangereuses"
I seem to be using the word a lot lately: hokey. Chandeliers with lit candles descend to sounds of operatic "ah ah" and pretentious violins. The story is based on a French epistolary novel written in 1782 and meant as a satire. But with the direction by Josie Rourke, you get the feeling that audiences are invited to enjoy the sex stuff. It's basically about a guy putting notches on his bedpost. ("Sex in the 18th-century French City"?) By Lucy Komisar.
Corbin Bleu as Ted, Megan Sikora as Lila. Photo by Joan Marcus.
"Holiday Inn"
"Irving Berlin's Holiday Inn" is charming fluff highlighting great songs of the 40s, but if you love 40s music, as I do, just forget the silly plot. Besides, the production and the actors are charming. And there is 40s scat. Also jazzy music, dance kicks, swing and tap. The show is based on a 1942 movie, but a lot of the songs have been added. By Lucy Komisar.
Simon McBurney as McIntyre racing around the stage (jungle). Photo by Joan Marcus.
"The Encounter"
"The Encounter" is a hokey gimmicky pretentious conceit. Simon McBurney, founder and artistic director of the British theater company Complicite (a French word here pretentiously spelled without the acute accent on the e) has produced a hokey often loopy and generally pompous conceit under the pretext of an anthropological mission to the Amazon. By Lucy Komisar.
Sutton Foster solo
"Sweet Charity"
How cool would it be to have Sutton Foster come to your house to sing and dance in your living room? And suppose she brought some talented friends to perform with her? Well, that's not gonna' happen, but you can come close by seeing the mega-watt star – and her pals – in "Sweet Charity" in the most intimate musical-theater venue in NYC these days: The Pershing Square Signature Center, where no seat is more than a few rows from the lip of the stage. By Philip Dorian.
Jeff Daniels as Ray and Michelle Williams as Una. Photo by Brigitte Lacombe.
"Blackbird" by David Harrower
This is one of those emotionally riveting plays that suddenly flips you over as you realize that everything you took for granted is not so. You are quite sure that David Harrower's story fits in with your beliefs about men's sexual abuse of young girl, until maybe it doesn't. Strongly acted by Michelle Williams and Jeff Daniels. Williams is so much better than her bland performance in "Cabaret," that you don't think it's the same person. By Lucy Komisar.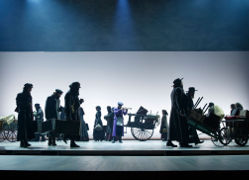 "Fiddler on the Roof. 'Jesse Kovarsky (center) and Cast. Photo by Joan Marcus.
"Fiddler on the Roof" Comes "To Life" Once Again
"Fiddler on the Roof" is not only a classic, it is also one of the most structurally perfect musicals ever created. Reviewed by Paulanne Simmons.
Kelli O'Hara as Anna and Ken Watanabe as the King, photo Paul Kolnik.
"The King and I" – gorgeous spectacle of 1860s British governess & Asian despot
The governess, Anna Leonowens, who spent five years at Siam's court, wrote two memoirs in the 1870s, and Margaret Landon fictionalized her story in 1944. Based on her novel, the 1951 musical, "The King and I," with book and lyrics by Oscar Hammerstein II, music by Richard Rodgers, and choreography by Jerome Robbins, was a dazzling success. It still is. Director Bartlett Sher has done a brilliant job – you almost see him waving a conductor's wand over the pageantry. Christopher Gattelli has smartly adapted the original choreography. By Lucy Komisar.
Vanessa Hudgens as Gigi. Photo by Joan Marcus.
"Gigi"revival airbrushes the dark story of young girls raised to be courtesans
The current Broadway revival of "Gigi" aiurbrushes the 1944 Colette story about the demi-monde of Paris, where elegant courtesans with their rich lovers dined out at Maxim's, drinking Veuve Cliquot and flicking their gowns and feathers. By Lucy Komisar.
Ben Miles as Thomas Cromwell, Nathaniel Parker as King Henry. Photo by Johan Persson.
"Wolf Hall," a riveting drama of tough 16th-century politics.
A play about the 16th century, but the dialogue, the politics, the economics, the power struggles give you a sense of watching the mafia. By Lucy Komisar
THE AUDIENCE -- Helen Mirren as Queen Elizabeth II. Photo by Joan Marcus.
"The Audience"
"The Audience," Peter Morgan's new play about Queen Elizabeth and her prime ministers, has excellent performances by the supporting cast and impressive design elements by Bob Crowley. To say nothing of those adorable (and mostly extraneous) dogs who scamper enthusiastically across the stage. But the main reason for seeing "The Audience" is to watch Helen Mirren ply her trade. By Paulanne Simmons.
Ali Ahn as Susan, Leighton Bryan as Lisa, and Elise Kibler as Denise. Photo by Joan Marcus.
"The Heidi Chronicles"
Wendy Wasserstein's play about the impact of feminism on women is troubling for a feminist. The movement has attempted to persuade women that the essence of their destiny and dignity is not writ out biologically as wives and mothers, but as self-fulfillment with choices in the same wider world as men. By Lucy Komisar.
Lincoln Center Gives "The King and I" a Majestic Revival
It's hard to go wrong with Rodgers and Hammerstein's "The King and I." But when everything goes right, as with Lincoln Center's current revival, it's truly magical.by Paulanne Simmons.
Kelli O'Hara, Ken Watanbe and company. Photo by Paul Kolnik.
CONSTELLATIONS--Jake Gyllenhaal. Phoyo by Joan Marcus.
"Constellations" at Samuel L. Friedman Theatre
The plot of "Constellations," written by Nick Payne, rests on the possibility put forth by some physicists of there being a multiple set of parallel universes in which any number of versions of our lives and deaths are being played out simultaneously. While the acting is intact and the timing adequate, as is Michael Longhurst's direction, that is to say both are rudimentary, it is Tom Scutt's otherworldly gently wavering balloon-filled set – I am guessing that the balloons are supposed to represent molecules or atoms – that command the most attention. But once the play starts they are rendered superfluous. By Edward Rubin.
THE LAST SHIP-- The workers in front of the ship. Photo by Joan Marcus.
"The Last Ship," a recitative musical.
The problem with "The Last Ship"at Neil Simon Theatre, written by John Logan and Brian Yorkey, choreographed by Steven Hoggett, with music and lyrics by pop artist Sting, is politics. The play is about workers taking over the shipyard to build one last ship to sail around the world. As in the best of Broadway, where production values often trump ideas, director Joe Mantello does a good job making the musical smart and zippy. But the play misses the political context that could have given it meaning. By Lucy Komisar.

THE ELEPHANT MAN--Bradley Cooper as John Merrick ,photo of the real Merrick, Alessandro Nivolas as Frederick Treves. Photo Joan Marcus
"The Elephant Man" a stunning play about cruelty and morality.
"The Elephant Man." Written by Bernard Pomerance and directed by Scott Ellis, is a mix of cruelty and humanity, a bit of voyeurism, and some fascination at an indomitable human spirit. The play, staged first in 1977 in London, imagines the trials and unusual accomplishments of Joseph Merrick, played sensitively by Bradley Cooper, without makeup but with a twisted face, misshapen body, deformed right hand and a limp. The Victorian story is relevant today, as it conjures up the repressive anti-sexuality that continues in the U.S. and elsewhere under the guise of hyper-morality. By Lucy Komisar.
ON THE TOWN--Tony Yazbeck as Gabey. Photo by Joan Marcus.
"On The Town" a gorgeous 40s fable revived with sexist veneer.
In the remake of "On The Town,"directed by John Rando and choreographed by Joshua Bergasse, the brassy Bernstein music is wonderful and the actors are terrific. It is a classic 1944 play and a more famous 1949 movie of three sailors on a weekend pass in New York who leave the ship determined to find romance. Or at least women. There are terrific Technicolor costumes by Jess Goldstein. All in all, lots of fun. "But why did I leave the theater wondering why this production had to be so anti-woman?" asks Lucy Komisar.
Jessie Mueller as Carole King and Jake Epstein as Gerry Goffin. Photo by Joan Marcus
There Are Tender Tuneful Moments in "Beautiful"
If you are a Jewish woman of a certain age who grew up in Brooklyn, "Beautiful - The Carole King Musical" will fill your heart with love and your eyes with tears. Everyone else will just have one hell of a great evening. By Paulanne Simmons.
Another Show about Those Russians!
"Nikolai and the Others," a new play by Richard Nelson, has over a dozen characters and clocks in at two and a half hours (with one intermission). It often seems like a soap opera. One difference between this play and what daytime television offers is that these characters happen to be based on Russian émigrés well-known in the arts: Igor Stravinsky, George Balanchine, and a host of lesser knowns. The other is that it is directed by David Cromer ("Tribes," "Our Town"). By Paulanne Simmons.
Holland Taylor as Ann Richards. Photo by Ave Bonar.
Holland Taylor Shines as Governor of the Lone Star State
By Paulanne Simmons
Several years ago I sat next to former Texas governor Ann Richards at the theater. She was next to her friend, columnist Liz Smith. What were these two prominent individuals talking about during intermission? Grandchildren! In Holland Taylor's solo show, "Ann," directed by Benjamin Endsley Klein, grandchildren also have a strong presence. But so do Richards' children, husband and parents. Taylor's beautifully written and performed show succeeds because it gives us a personal view of a public figure.
In "Ann," Holland Taylor Channels Texas Governor Ann Richards as if She Were Here Today
By Lucy Komisar
"Ann" is a very fine solo play written and acted by Holland Taylor. Her accent and demeanor are spot-on. But the other value of the production is how close it gets to Richards and what it has to say. Ann Richards would think she was looking into a mirror.
L-R: Bailey Ryon, Milly Shapiro, Sophia Gennusa and Oona Laurence in "Matilda." Photo by Joan Marcus.
"Matilda," a Smashing Political Allegory about Confronting Authoritarianism
A hit Broadway musical in favor of intellectualism and rebellion, that's a welcome surprise in New York where this season's best new musicals about people who challenged the system – "Chaplin" and "Scandalous" (about Aimee Semple McPherson) — had short runs. Though of course, this production comes from London and it's a fantasy, not about real events. Well, not about overtly political events. But it's about stultifying intellectual repression. From the point of view of children! If you have kids, take them. And if you don't, go anyway. It's a play for adults, too. By Lucy Komisar.
The Motown Beat Takes Over Broadway
Although "Motown: The Musical" has a slim book, it's stuffed with all the great hits a child of the sixties could ever want. By Paulanne Simmons.


Nathan Lane in "The Nance." Photo by Joan Marcus.
The Nance
By the late 1930s, when Douglas Carter Beane's "The Nance," takes place, vaudeville was pretty much dead, and its naughty cousin, burlesque, was on life support. Yet vaudeville and burlesque were for many years the principal forms of entertainment for many Americans. It is a period of time that deserves to be remembered and celebrated. And so it is in this entertaining and thought-provoking drama. By Paulanne Simmons.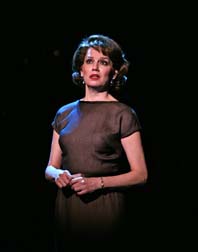 BABY IT'S YOU--Beth Leavel as Florence Greenberg. Photo by Ari Mintz.
"Baby it's You!" is a Fascinating and Entertaining Feminist Juke Box Musical
This is a terrific feminist juke box musical. It is based on the true story of Florence Greenberg (the excellent Beth Leavel), a New Jersey housewife who discovered the Shirelles, four Passaic, NJ, high school coeds, who she would make into a major singing group. She would, in the process, move to Manhattan, shed her traditional husband and take up with a young song writer. This was in 1958, before feminism became a mass movement. Also before Motown, before the Beatles. The visionary Flo and pop music would never be the same. By Lucy Komisar
An Unproduced Tennessee Williams Work Gets Tender Treatment
"One Arm," an unproduced screenplay by Tennessee Williams, is certainly not the best of the famed playwright's work. But even when Williams is not at his best, he's much better than most writers. And given Moises' Kaufman's skillful adaptation and direction, the play, about Ollie Olsen, a one-armed boxer turned hustler, becomes a moving commentary on life and love. By Paulanne Simmons.
THE MOTHERF**KER WITH THE HAT--Bobby Cannavale as Jackie, Elizabeth Rodriguez as Veronica. Photo by Joan Marcus.
"The Motherf**ker with the Hat"
Stephen Adly Guirgis' play is a very funny, ironic, grungy and cautionary tale where four-letter words, sex and betrayal are mixed in equal parts in the down and dirty milieu of New York City drug addicts and their relatives and friends. By Lucy Komisar.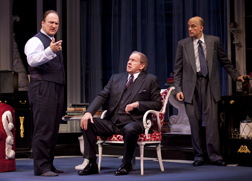 BORN YESTERDAY--Jim Belushi as Harry Brock, Terry Beaver as Senator Hedges, Frank Wood as lawyer Devery. Photo by Carol Rosegg.
"Born Yesterday"
Garson Kanin's 1946 comedy is a delightfully clever political romp which pits a crooked businessman and a bought U.S. Senator against a supposedly dumb kept woman who gives everyone a civics lesson while taking the bad guys down a few notches. By Lucy Komisar.

THE HOUSE OF BLUE LEAVES--Ben Stiller as Artie, Alison Pill as Corrinna. Photo by Joan Marcus.
"The House of Blue Leaves"
John Guare's 1970 dark comedy, in a brilliant revival by David Cromer, shifts between humor and tragedy as it traces the path from illusion to delusion. As one morphs into the other, the differences appear increasingly subtle. By Lucy Komisar.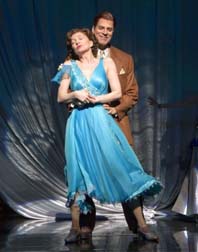 THE PEOPLE IN THE PICTURE--Donna Murphy as Raisel and Christopher Innvar as Chaim Bradovsky. Photo by Joan Marcus.
"The People in the Picture"
It was 1935 Warsaw, and a small traveling troop of Jewish actors were playing the "shtetl circuit," as they half affectionately, half mockingly called it. They did vaudeville, they did Shakespeare, they did the Bible. Raisel (Donna Murphy) as Moses' wife: "You're going to do what? You can't even part your hair!" The times are dark and the troop's responses reach for answers in absurdity: "A pogrom is not an easy act to follow." By Lucy Komisar.

THE MINISTER'S WIFE--Kate Fry as Candida, Marc Kudisch as Rev. Morrell. Photo by Paul Kolnik.
"The Minister's Wife"
Michael Halberstam's chamber music version of Shaw's "Candida" is a charming and exhilarating production about male-female relations in earlier days of the battle for women's sexual freedom. The story is adapted by Austin Pendleton from Shaw's 1898 version of the play, which he revised in 1930, when post-flapper era so much in society had changed. At the turn of the century, women were even more psychologically and materially dependent on their husbands. By Lucy Komisar.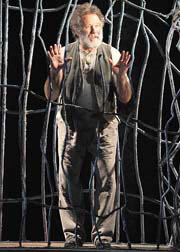 BENGAL TIGER AT THE BAGHDAD ZOO--Robin Williams as the Tiger.Photo by Carol Rosegg.
"Bengal Tiger at the Baghdad Zoo"
Surreal, sometimes funny, often cruel, Rajiv Joseph's play in a stunning production by Moisés Kaufman looks at killing, in war, and among beasts, and wonders if it is a primordial instinct, something that somehow infects people who think they "don't do that." It is a powerful production, not your typical war story, as the murder victims come back as ghosts. By Lucy Komisar.


ARCADIA-- Bel Powley as Thomasina Covery, Tom Riley as Septimus Hodge. Photo by Carol Rosegg.
"Arcadia"
Tom Stoppard's 1993 "Arcadia" plays with truth and illusion and shows how easy it is to be deceived. It sets true intellectuals devoted to search and discovery against glory-seeking "scholars" who invent convenient truths. Stoppard, as he is good at doing, mixes truth about historical figures with fantasy about their connections with the protagonists in a way that adds to the fascination of the plot. By Lucy Komisar.

GOOD PEOPLE-- Becky Ann Baker as Jean, Frances McDormand as Margaret, Estelle Parsons as Dottie. Photo by Joan Marcus.
"Good People"
The struggles of the working class are starkly depicted in David Lindsay-Abaire's striking portrait of a handful of friends in Boston's Southie neighborhood. At a time when economic decisions by the government leave millions of workers in the dust, it's a political as well as social commentary. "Good People" directed by Daniel Sullivan plays at Samuel J. Friedman Theatre. By Lucy Komisar.

PRISCILLIA, QUEEN OF THE DESERT-- Priscilla Will, Tony & Nick. Photo by Joan Marcus.
"Priscilla, Queen of the Desert"
Broadway's "Priscilla, Queen of the Desert" by Stephan Elliot & Allan Scott, funny, touching, and over the top in its inventiveness, to use a lyric from A Chorus Line song, is "One Long Singular Sensation," one that almost had the audience, the night I attended, dancing in the aisles. In fact, one highly energetic young lady, obviously electrified by the highly amplified disco music, did just that. Well, almost. She stood up in her seat, wiggled her body and wildly waved her arms until the man behind her yelled for her to sit down. So wrapped up in "It's Raining Men", the musical's opening number, it took several shout outs for her to get the message. Even seated, like others in the audience – me for instance – she continued to twist and sway throughout each musical number during the shows two and a half frenzied hours. The performance plays at The Palace Theatre, choreographed by Ross Colemanand and directed by Simon Phillips. By Edward Rubin.


DRIVING MISS DAISY -- Vanessa Redgrave as Miss Daisy, James Earl Jones as Hoke. Photo by Annabel Clark.
"Driving Miss Daisy"
Alfred Uhry's charming, moving play "Driving Miss Daisy" directed by David Esbjornson at John Golden Theatre, is part of his Atlanta trilogy about Southern Jews in the middle decades of the last century. Through the conflict and then growing warmth between an elderly middle-class white woman and a middle-aged working-class black man, one gets a sense of how human contact can break or at least crack the barriers of color and class. The production is a tour de force for Vanessa Redgrave and James Earl Jones. By Lucy Komisar
Tovah Feldshuh appeared at "Town Hall at 90," a benefit concert to celebrate the institution's 90th birthday on May 2, 2011. Photo by Jonathan Slaff.
Town Hall Celebrates 90 Years of Culture and Entertainment
Town hall is 90 years old this year, and many award-winning stars helped celebrate. And to commemorate the milestone, President Marvin Leffler held a big bash on May 2, hosted by Scott Siegel, creator/writer of The Town Hall's Broadway By the Year series. Indeed the anniversary gala featured a lineup of stars worthy of the event, beginning with Tovah Feldshuh singing a "Town Hall Medley" with music and lyrics by Gershwin and Styne, with a little help from Feldshuh. By Paulanne Simmons.
WAR HORSE -- Seth Numrich in a scene from the National Theater of Great Britain. Photo by Paul Kolnik
War Horse Is a Children's Story for Adults
Not since Journey's End was revived in 2007 has Broadway seen such a searing depiction of World War I as National Theatre of Great Britain's War Horse, now at the Vivian Beaumont Theater. By Paulanne Simmons.

"The MotherF**ker with the Hat" by Stephen Adly Guirgis
Life is difficult. Love is harder. First he finds the hat. Then he finds the wrong motherf**er with the hat -- and shoots up his apt. By the time he finds the right motherf**er, it's too late for love -- and he's headed back to jail. Guergis's foul mouthed, brilliant, and funny funny 4G comedy is changing our definition of Broadway drama, bringing in new audiences -- some of them to see Chris Rock in his Broadway debut -- and proving that the best playwriting can be about anything."The MotherF**ker with the Hat" directed by Anna D. Shapiro, is playing at the Gerald Schoenfeld Theatre. By Glenda Frank.

THE BOOK OF MORMON--Pictured (L to R): Rerna Webb, Andrew Rannells, Josh Gad. Photo by Joan Marcus.
The Book Of Mormon Raises Holy Hell
"The Book of Mormon" playing at Eugene O'Neill Theatre, written by Trey Parker and Matt Stoneby, the creators of "South Park", is not for the straight-laced, as a brief look at the plot reveals: Two Mormon Missionaries Elder Price (Andrew Rannells) and Elder Cunningham (Josh Gad), the first a self-centered idealist, the second a chubby misfit, are sent to Uganda to convert the native population. In Uganda they settle in a village ravaged by AIDS and threatened by a local warlord with an unprintable name. The villagers cheer themselves up by singing a song with lyrics that are also unprintable. By Paulanne Simmons.
AMERICAN IDIOT--Michael Esper as Will, Stark Sands as Tunny and John Gallagher Jr. as Johnny, Paul Kolnik.
"American Idiot."
This vibrant rock production about youthful rebellion in the face of a fraudulent society is in the tradition of "Hair." But it's not "Hair" with the memorable tunes that we still remember decade later; it's more like MTV. Fast, often driving, and the kind of hard rock of the 28 Green Day tunes that doesn't much distinguish it from anything else of that genre. By Lucy Komisar.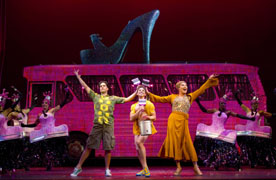 PRISCILLA, QUEEN OF THE DESERT -- (l-r) Will Swenson, Nick Adams, Tony Sheldon and the cast of the Broadway-bound musical, now playing Toronto's Princess of Wales Theatre through January 2, 2011. Broadway previews begin February 28 at The Palace Theatre for a March 20 opening. Photo: Joan Marcus.
Broadway-bound "Priscilla, Queen of the Desert"
"Priscilla, Queen of the Desert," currently wowing audiences at the Princess of Wales Theatre in Toronto before it moves to Broadway this spring, is a grand and gloriously eye-popping musical extravaganza with more than a dollop of sentimentality. It is also just about the gayest theatrical production cum Las Vegas nightclub act to tread the boards of mainstream theatredom. From its countless show-stopping, gay anthem-filled musical numbers, both sung and lip-synched – It's Raining Men opens the show – to Tim Chappel's and Lizzy Gardiner's over the top Lady Gaga lookalike costumes, Brian Thomson's fantabulous multilayered sets, scantily clad muscle boys, drag queens, and gay-tinged, smut-laden zingers delivered at breakneck speed by its three starring divas, it makes "La Cage aux Folles" seem like a Episcopalian wake. By Edward Rubin.
BRIEF ENCOUNTER -- Hannah Yelland as Laura and Tirstan Sturrock as Alec, enjoy new love in a rowboat. Photo Joan Marcus.
Brief Encounter
I can't remember when I've seen a play as hokey and charming and full of fun as "Brief Encounter." Okay, I take that back. It was "The 39 Steps." But not surprising, it is also a spoof of an iconic British film, that one by Alfred Hitchcock. This one is by Noël Coward. If you want to have a very good time, go to this production. But notice the deeper meaning underneath it all. By Lucy Komisar.
LA BÊTE--Mark Rylance as Valere, Joanna Lumley as Princess and David Hyde Pierce as Elomire. Photo by Joan Marcus.
"La Bête" is a devastating satire about the domination of low culture
The corruption of culture is the theme of this searing and wildly funny satire written by David Hirson in 1991 and, alas, ever more appropriate today. Mark Rylance is dazzling in the role of Valere, a gross, foppish, foolish street performer who threatens the high art of the theater troop directed by Elomire (David Hyde Pierce), a stand-in for Molière, who was a court playwright. By Lucy Komisar.
FENCES--Denzel Washington and Viola Davis. Photo by Joan Marcus.
"Fences" in 2010
What happens when the victim becomes the victimizer? When a man's spirit is so thwarted that he turns hard in his soul and becomes so self-centered that he can't love or care for anyone else? It's the message of August Wilson's tough 1983 play set in the late fifties that attempts to explain the dysfunctional working class black men who were being studied to death. By Lucy Komisar.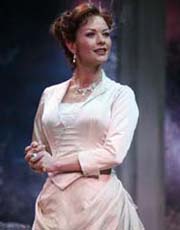 A LITTLE NIGHT MUSIC--Catherine Zeta-Jones as Desirée, Photo by Joan Marcus.
"A Little Night Music"
This almost tongue-in-cheek celebration of sex would imply that passion begets foolishness, especially among men. As we watch the absurdly shifting liaisons and desires among the mostly upper class protagonists, we understand the genesis of the play's famous song performed by the actress Desirée (Catherine Zeta-Jones), "Quick, send in the clowns. Don't bother, they're here." By Lucy Komisar.
EQUIVOCATION -- (L-R) David Pittu as 'Nate,'Remy Auberjonois as 'Armin/Edward Coke' and David Furr as 'Sharpe.' Photo by Joan Marcus.
"Equivocation"
In "Equivocation," Cain imagines what might have happened if King James I had asked Shakespeare to write a play about the failed attempt to blow up parliament known as the Gunpowder Plot. By Paulanne Simmons.
A VIEW FROM THE BRIDGE -- Scarlett Johansson and Morgan Spector. Photo by Joan Marcus.
"A View From the Bridge"
Arthur Miller's story of the betrayal that tears apart a longshore family in Brooklyn was a metaphor for the treachery of the people who "named names" in the anti-communist witch hunts of the 1950s. Miller was particularly angry at director Elia Kazan, with whom he had worked. In 1956, Miller was subpoenaed by the House Un-American Activities Committee and cited for contempt of Congress for refusing to identify writers he had met at one of two communist writers' meetings he had attended years before. That same year, "A View From the Bridge" opened on Broadway. By Lucy Komisar.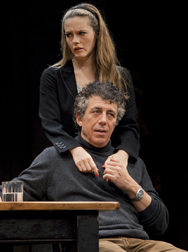 TIME STANDS STILL -- Eric Bogosian and Alicia Silverstone. Photo by Joan Marcus.
"Time Stands Still."
Donald Margulies's powerful and moving play dissects the professional and psychological passion of a photographer who covers the horrors of wars, famine, and genocide. "Time stands still" represents the moment when she presses the shutter button and sees the world only through the view finder. Time stops, sound cuts out; her experience is just what is taking place in the rectangle. There is an objectifying and separation from reality. And for Sarah Goodwin (Laura Linney) it's the only moment in life that counts. By Lucy Komisar.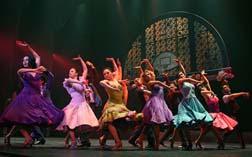 WEST SIDE STORY -- The Sharks girls. Photo by Joan Marcus.
"West Side Story"
The free-floating anger exuded by the "Jets" and "Sharks" as they clash under and leap onto fire escapes is combustible. Any reason for the gangs' free-floating hostility? Well, when Officer Krupke (Lee Sellars) arrives in the neighborhood, along the Hudson River on the Upper West Side of New York City, he slams one kid in the stomach with a Billy club. Lt. Schrank (Steve Bassett) comes into a local drugstore and insults the Puerto Ricans as migrant scum. The sociological stage is set. There's nothing dated about Arthur Laurents' revival of his own "West Side Story." This American theater classic is another proof that the best, most enduring musicals (and plays) combine personal stories with political ones. By Lucy Komisar.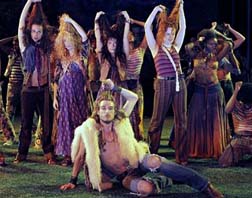 HAIR -- Byrce Ryness and cast pulling up their hair. Photo by Michal Daniel.
"Hair" is simplistic politics but a joyous celebration of the 60s counterculture
My guest at "Hair" was an old friend who had been a leader of the 1968 protest movement in Germany. As we left the theater, he shook his head. He said, "We were much more political." That said, and history corrected, Diane Paulus's revival of the 1968 musical now on Broadway captures the mood of part of a generation of young people (a minority of their contemporaries) that helped change the culture. By Lucy Komisar.
FINIAN'S RAINBOW -- Terri White, Guy Davis & Ensemble. Photo by Joan Marcus.
"Finian's Rainbow."
This charmingly radical musical by Yip Harburg and Fred Saidy – given a smart, lively, delicious staging by Warren Carlyle -- was a shot across the bow of conservative America when it opened on Broadway in 1947. It showed black and white sharecroppers in solidarity against the tax foreclosure sale of a farm. It depicted the corruption and racism of a white politician who is buying up local real estate so he can block cheap public electric power. And it satirized capitalism by declaring that digging up some gold buried in the ground would remove an incentive and wreck free enterprise. Even the famous "If this isn't love" has the pointed line, "If this isn't love, it's red propaganda!" By Lucy Komisar.
WISHFUL DRINKING -- Carrie Fisher and Leia from Star Wars. Photo by Joan Marcus.
"Wishful Drinking" is Carrie Fisher's autobiography, a stage version of bad tell-all late night TV
"Wishful Drinking" is Carrie Fisher's self-referential one-woman staged pop autobiography is based largely on the famous people she interacted with through her life, starting with her parents, Eddie Fisher and what's her name? Oh, Debbie Reynolds. It's been so long. The play is rather like bad tell-all late night TV. By Lucy Komisar
BURN THE FLOORTrent Whiddon, Patrick Helm, Damian Whitewood, Robin Windsor, Sasha Farber, Peta Murgatroyd, Henry Byalkov. Photo by Joan Marcus.
"Burn the Floor" presents exciting competitive ballroom dancing with a contemporary edge
"Burn the Floor" is an exciting review of ballroom dancing through the decades, from Latin and Afro-Brazilian rhythms to modern jazzy idioms. Through you never saw any of this in a real ballroom. The numbers, the wild fast movements, come out of the competitive dancing that these couples have done all over the world. By Lucy Komisar.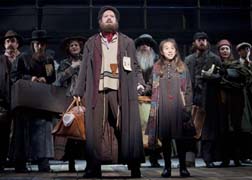 RAGTIME -- Robert Petkoff as Tateh, Sarah Rosenthal as his daughter, and other immigrants. Photo by Joan Marcus.
"Ragtime"
"Ragtime" is a cinematic, visionary, heart-stopping view of America of the early 1900s. The power and sweep of the bittersweet mix of true history and invention take your breath away. The characters are meant to be symbols, as the play mixes real people with invented ones, true events with imaginary ones. Fictional people come from three families—upper-middle class, white Anglo-Saxon Protestant, socialist immigrant Jewish from Latvia, and Harlem black – who represent American dreams and the tragedies that ensued during the struggle for justice. They play also shows the transformative power of the new 20th century. By Lucy Komisar.
MEMPHIS -- Montego Glover & Chad Kimball as Felicia & Huey. Photo by Joan Marcus.
"Memphis" is a vibrant back story of the Rhythm & Blues on Beale Street in the 50s.
"Memphis," book by Joe DiPietro, music by David Bryan, and lyrics by both, is a vibrant sometimes hokey but visually exciting story musical with terrific sounds that range from rhythm and blues to gospel. It's a social and political back story of Rhythm & Blues. It's 1951 on Beale Street. And Huey (Chad Kimball) wanders into a hot music joint He's found the music of his soul. The only problem is that he's in the black part of town and he's white. By Lucy Komisar.
SHREK THE MUSICAL -- Sutton Foster as Princess Fiona and dancers. Photo by Joan Marcus.
"Shrek the Musical"
"Shrek the Musical" is a kids musical with clever jokes & lyrics for adults. There's a genre of musicals that is supposed to be for kids, but is just as much for adults. I include "The Lion King" and "Wicked" and now "Shrek the Musical." I loved them all. What they have in common is strong moral politics. The characters in the first play fight oppression, the second combat racism and Shrek does a bit of both. Like the others, it proves that shows about ideas are more interesting and fun than empty-headed fluff. By Lucy Komisar.
A STEADY RAIN--Hugh Jackman & Daniel Craig. Photo by Joan Marcus.
"A Steady Rain"
"A Steady Rain" is a thriller about two beat cops, partners, friends from childhood, that would seem to belong on TV. On the other hand, some of the events they describe are so bloody, that I'd rather see them described in the two interlocking monologues that make up the play rather than watch them in full color. By Lucy Komisar.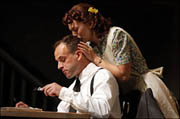 AFTER MISS JULIE--' Jonny Lee Miller and Marin Ireland. Photo by Joan Marcus.
"After Miss Julie"
"After Miss Julie" a psychological thriller, a rich drama has three characters enmeshed in a web of conflicts that shift the upper hand from one to the other, depending on whether the field of battle is class or sex. It is a riveting play where the power of class and gender fight for primacy. By Lucy Komisar
BROKE-OLOGY--Francois Battiste, Wendell Pierce, Alano Miller. Photo by T Charles Erickson.
"Broke-ology"
"Broke-ology" is a sometimes appealing, sometimes corny look at the dynamics of being loyal to your family and also loyal to yourself. It also examines the science of being a family. By Lucy Komisar.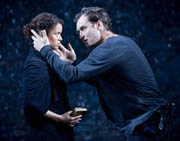 "Hamlet" -- Gugu Mbatha-Raw, Jude Law. Photo by Johan Persson.
"Hamlet"
Jude Law brings a pulsating animal energy to Shakespeare's tragedy, not the tentative or tormented like the Hamlets we are used to. This "Hamlet" is a thriller and Hamlet the vengeful detective. The excitement is palpable. By Lucy Komisar.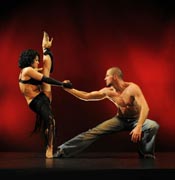 "Burn the Floor" -- photo by Kevin Berne
Burn the Floor
Having been an exhibition dancer during my teens and an Arthur Murray ballroom dancing instructor while at college (they were desperate for young men to move fat ladies across the floor), "Burn the Floor" had me sitting both ecstatically and nostalgically on the edge of my seat for nearly two hours. By Edward Rubin.
"Mary Stuart"
Political history aside, the play while historically misleading gives two actors, Jane Mcteer and Harriet Walte,r an opportunity to act up a storm. And they do. Each has a big scene, and each dominates the stage in her own way. By Margaret Croyden.
Guys and Dolls Company. Photo by Carol Rosegg.
"Guys and Dolls"
"Guys and Dolls" proves the score's the king in classic Broadway musicals. This revival of the 1950 musical comedy about a Salvation Army missionary who reforms a couple of hard-boiled but appealing gamblers shows why the show was a smash. By Lucy Komisar.
BILLY ELLIOTTrent Kowalik as Billy Elliot and Ballet Girls. Photo by Alastair Muir.
Billy Elliot The Musical
"Billy Elliot, The Musical" is an appeal for solidarity and freedom. This Lee Hall-Elton John musical is a lively, moving, exhilarating production that recounts the impact of the British miners' strike of the mid-80s . It also asserts the right of an individual to express himself, his dreams and his art. By Lucy Komisar.
"Shrek The Musical"
After one children's picture book (by the prolific William Steig) and three movies, one would think the Shrek franchise was near its end. Then along comes "Shrek the Musical," and we find out it has a healthy future. By Paulanne Simmons.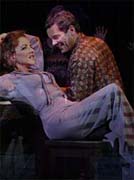 PAL JOEY--Stockard Channing and Matthew Risch. Photo by Joan Marcus.
"Pal Joey," a cynical musical about a womanizing con man, rings true today.
Con men make good anti-heroes. At a time when the country is focused on a spectacular one that cheated people of billions, it's instructive to take a look at the genre. "Pal Joey," the Richard Rodgers-Lorenz Hart 1940 musical given a moody revival by director Joe Mantello at the Roundabout Theatre, is about a sleazy character on the make for money and success. By Lucy Komisar.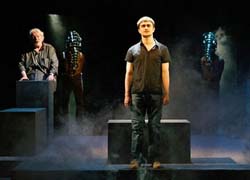 EQUUS--Richard Griffiths and Daniel Radcliffe at Broadhurst Theatre, through February 8, 2009 . Photo by Carol Rosegg.
"Equus" is a powerful mystery of a youth caught in a conflict of religion and sex
"Equus" by Peter Shaffer (1973) is vividly directed by Thea Sharrock in its current revival. A troubled 17-year-old youth, Alan Strang (Daniel Radcliffe) is brought by a judge (Kate Mulgew) to the office of an overworked psychiatrist in a provincial hospital in southern England. He has blinded a stable of six horses. Slowly, through importuning, bribes of small gifts and even hypnotism, the psychiatrist, Martin Dysart (Richard Griffiths) gets him to see through his nightmares and tell what brought him to commit this horror. By Lucy Komisar.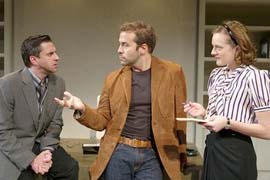 SPEED THE PLOW -- L to R: Raul Esparza, Jeremy Piven, Elisabeth Moss. Photo by Brigitte Lancombe.
Mamet's inside story of why Hollywood produces junk
At a time in the U.S. when most films seem made for retarded 13-year-olds, this revival of David Mamet's 1988 "Speed the Plow" is right on target. It's a satire on Hollywood moguls on the make for money and success, which they see strewn along the paths of titillating sex and violence. Hey, how else to get a lunch table at the town's favored watering hole? Who will win the battle for movieland? The young producer who dreams of dollar signs in his future hyperventilates: "If they can't put it in TV Guide, you can't make the film." By Lucy Komisar.
ALL MY SONS--Katie Holmes and Patrick Wilson. Photo by Joan Marcus.
"All My Sons"
Arthur Miller's play about corporate corruption never goes out of fashion. As a theater device, he focused on a small factory owned by one man, but you can take this as a representation of what went on and what goes on when anything goes in business. Profits trump morals. The victims are all of us, which is what the title means. Simon McBurney's production is smooth and riveting. By Lucy Komisar.
WICKED--Kristin Chenoweth and Idina Menze. Photo by Joan Marcus.
"Wicked"
This behind the scenes revisionist view of "The Wizard of Oz" is a political allegory about racism and discrimination. It's fascinating as a literary work and stunning as theater. Based on the novel by Winnie Holzman, it's an updated Animal Farm. It's a play that exists on two levels, one for the kids and another for adults, who will find it intellectually stimulating. It's Oz before Dorothy got there. By Lucy Komisar.
Alfred Hitchcock's "The 39 Steps," Adapted by Patrick Barlow
Be prepared to be amused by the delightful production of "The 39 Steps." If you are old enough to remember Alfred Hitchcock's fabulous script, its intricate design, its suspense, and amusing chase between the hero and the spy masters, then you will certainly appreciate this spoof of Hitchcock. Adapted from a book by John Buchan, and directed by the brilliant and innovative Maria Aitken, the play runs a mere two hours and flies by as though twenty minutes. Imagine three man and a single woman playing all the roles that encompasses the entire movie from the beginning to the end. And this they do so brilliantly that it is impossible to tell that the actors are playing multiple characters. By Margaret Croyden.
GYPSY -- Photo by Paul Kolnik.
"Gypsy" is back
As the quintessential stage mother who launched Gypsy Rose Lee on her career, Patti LuPone is brassy and vulnerable, calm and frenetic, distracted and intense. Her voice fills the theater and her heart takes over the stage. From the moment she steps onto the stage at the St. James Theatre, it's obvious she's going to make this role totally her own. Who could ask for more? By Paulanne Simmons.
"Avenue Q" is sexed-up Sesame Street
"Avenue Q" has been hailed as the first big hit of the season, a season that has started in the middle of the summer, when it is very hard to have a hit. "Avenue Q " is a lively musical comedy about the hip-hop generation and all that this entails. A group of young people live on Avenue Q, and each is a type with a story to tell. And unto the bargain that story is sung and dramatized by characters manipulating their puppets right out in the open. No shadow play here. The puppets are hand held and strings are pulled right in front of us.
"Jersey Boys"
Believe it or Not, but Glenn Loney had no idea who Frankie Valli & the Four Seasons were before he saw this dynamic show. Nor was he looking forward to it: Would it be as disappointing as Lennon? As bad as Good Vibrations and the Beach Boys? Not at all: It is a super-charged show, with an ingenious book by the witty Marshall Brickman and Rick Elice. None of this "And then he wrote, and then he wrote…" It is very effectively staged by Des McAnuff, who premiered it at his La Jolla Playhouse.
"Mamma Mia!"
With the fabulous costumes and constantly moving set-props of Mark Thompson, it could have been quite as good as a Giant Choreographed Concert in Costumes. Given high-octane energy, of course, by a dynamic cast, led by Louise Pitre. By Glenn Loney.
LES LIAISONS DANGEREUSES--Laura Linney and Ben Daniels. Photo by Joan Marcus.
Les Liaisons dangereuses
Christopher Hampton's "Les Liaisons Dangereuses" is based on the epistolary novel by the Frenchman, Choderlos de Laclos who wrote the book in 1782. Hampton's adaptation was first produced in l987, followed by the movie, 1988. The film achieved a good deal of attention and was a huge success, particularly for the work of Glen Close and John Malkovich in the leads. In this current production both Laura Linney and Ben Daniels as the two unscrupulous schemers are miscast. Which leaves the play an empty shell. By Margaret Croyden.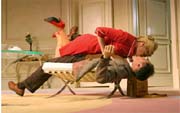 BOEING-BOEING--Mark Rylance and Kathryn Hahn. Photo by Joan Marcus.
Boeing-Boeing
A few minutes into the play, buoyantly directed by Matthew Warchus, the plot is revealed. Bernard (Bradley Whitford), an attractive, self-assured bachelor, has three girlfriends. "Less than three would be monotonous; more than three is way too tiring." All are airline hostesses, and all think he's going to marry them. "Boeing-Boeing" is filled with double entendres, misunderstandings, near misses and high jinx. It takes a while for "Boeing-Boeing" to get off the ground, but once it takes off, the show is non-stop hilarity. By Paulanne Simmons.
The cast of "Cry Baby" by Mark Brokaw. Photo by Joan Marcus.
Cry-Baby
Broadway's exuberant new musical, "Cry-Baby" opens at an anti-Polio picnic in Baltimore. It's 1954, and Mrs. Vernon-Williams (the always magnificent Harriet Harris) presides over a group of wholesome, all-American teenagers, the girls wearing flared skirts, the boys wearing identical sweaters. They sing an innocent 50s number about the joys of inoculation. By Paulanne Simmons.
KISS ME KATE-- Paper Mill Playhouse, Photo by Gerry Goodstein, Left to Right, Liz Kimball, Elliott Bradley, Gary Lynch (Pops), Stephen Carrasco (Hortensio), Wes Hart (Gremio), Katie Hagen, Kyle Vaughn and Desirée Davar
Kiss Me Kate
"Kiss Me Kate" is the ultimate backstage musical in that it integrates the show-within-the show better than anybody had done before or has done since. Based on Shakespeare's comedy, "The Taming of the Shrew," the musical shows how the hero, Fred Graham (Mike McGowan) manages to tame his woman, his former wife, Lilli Vanessi (Michele Ragusa), both onstage when she plays Kate, the shrew, and offstage as the temperamental diva. By Paulanne Simmons.
Sunday In the Park With George, the musical
By now everyone knows the story of this famous Stephen Sondheim's musical ( for this its third revival) that deals with Georges Seurat's remarkable pointillist painting of "A Sunday Afternoon on the Island of La Grande Jatte." Using the painting as a background (actually the main subject), Sondheim ingeniously attempts to dissect Seurat's egomaniacal obsession with his art, an obsession that leads to the painter's neglect of mother, lover, child, friend--anyone who may distract him from his all consuming, passionate commitment to painting. The most inventive aspect of this production is not so much its story (although that is fascinating too) but the director's (Sam Buntrock) use of modern technology: computerized images, digital projections, clever animations that show the painting coming to life, its beginning, its progress and its glorious end.
IN THE HEIGHTS -- Lin-Manuel Miranda (center). Photo by Joan Marcus.
Hip-Hop "In the Heights"
Set in Washington Heights, "In the Heights" celebrates in hip-hop and Latin music the ethnic diversity of a neighborhood that has seen radical changes in the past few decades. Now on Broadway. By Paulanne Simmons.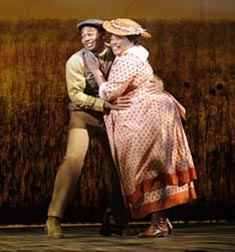 THE COLOR PURPLE-- Victor Dixon, Felicia Fields. Photo by Paul Kolnik.
Color Me Purple
"The Color Purple" is a woman's musical cry of rage. It's a poignant, brassy, bluesy, R&B & gospel melodrama, an operetta-style protest in the tradition of "Porgy and Bess." By Lucy Komisar.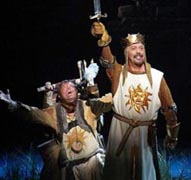 MONTY PYTHONS SPAMALOT--(L-R) Michael McGrath, Tim Curry. Photo by Joan Marcus.
"Monty Python's Spamalot"
There's nothing like an outrageous political satire written by left-wing Brits! John Patrick Shanley, who won this year's Pulitzer Prize for "Doubt," wondered at a Drama Desk panel on theater and politics, which I moderated last year, why most plays were written by people on the left. The puzzle wasn't solved, but 'Monty Python's Spamalot' proves how lucky we are that it's true. And that Brits still have a vital leftist culture. By Lucy Komisar.
FOR MORE BROADWAY COVERAGE
See Loney's Show Notes and Croyden's Corner in our Lobby and Columnists sections.